used
[yo̵̅o̅zd : see note at use]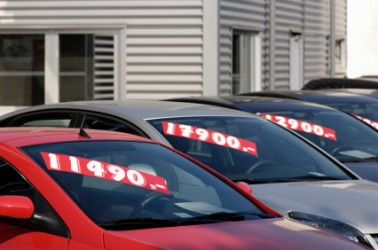 A row of used cars.
adjective
The definition of used is something that was owned, worn or utilized by someone before another.

An example of used is a pre-owned vehicle.
An example of used is clothing purchased at a thrift store.
---
used
transitive verb
,
intransitive verb
use
adjective
that has been used
secondhand
---
used
adjective
Not new; secondhand: a used car.
Accustomed; habituated: getting used to the cold weather; was used to driving a small car.
---
used
Verb
Simple past tense and past participle of use.

You used me!

(intransitive, as an auxiliary verb, now only in past tense) to perform habitually; to be accustomed [to doing something]

He used to live here, but moved away last year.
Adjective
used (not comparable)
That is or has or have been used.

The ground was littered with used syringes left behind by drug abusers.

That has or have previously been owned by someone else.

He bought a used car.

Familiar through use; usual; accustomed.

I got used to this weather.
---
used
Variant of use
transitive verb
used , using
to put or bring into action or service; employ for or apply to a given purpose
to practice; exercise: to use one's judgment
to act or behave toward; treat: to use a friend badly
to consume, expend, or exhaust by use: often with up: to use up one's energy

to smoke or chew (tobacco)
to take or consume habitually: to use drugs

to make familiar; accustom: used in the passive with to: to become used to certain ways
to exploit or treat (a person) as a means to some selfish end
Origin of use
Middle English
usen
; from Old French
user
; from Vulgar Latin an unverified form
usare
; from Classical Latin
usus
, past participle of
uti
, to use
intransitive verb
to be accustomed; be wont: now only in the past tense, with an infinitive, meaning "did at one time": he used to live in Iowa

Now Chiefly Dial.

to frequent; resort
noun
the act of using or the state of being used
the power or ability to use: to regain the use of an injured hand
the right or permission to use: to grant a neighbor the use of one's car
the need, opportunity, or occasion to use: no further use for his services
an instance or way of using
the quality that makes a thing useful or suitable for a given purpose; advantage; usefulness; worth; utility
the object, end, or purpose for which something is used
function, service, or benefit
constant, continued, customary, or habitual employment, practice, or exercise, or an instance of this; custom; habit; practice; wont
the particular form of ritual or liturgy practiced in a given church, diocese, etc.

Law

the enjoyment of property, as from occupying, employing, or exercising it

Origin of use

infl. by OFr ues, gain < L opus, a work profit, benefit, or advantage, esp. that from lands and tenements held in trust by another
Origin of use
ME & OFr
us
< L
usus
have no use for
to have no need of
to have no wish to deal with; be impatient with
☆ to have no affection or respect for; dislike strongly
make use of
to use; have occasion to use