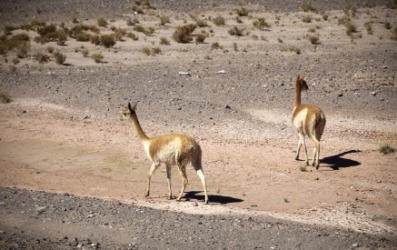 Llamas walking across a barren landscape.
adjective
The definition of barren is something or someone who is not productive or fruitful, or a place with few or no plants.

An example of a barren tree is a tree that makes no fruit.
An example of barren is a desert where few things grow.
---
barren
that cannot produce offspring; sterile: a barren woman
not bearing or pregnant at the regular time: said of animals or plants
not producing crops or fruit; having little or no vegetation: barren soil
not bringing useful results; unproductive; unprofitable: a barren plan
lacking appeal, interest, or meaning; dull; boring
empty; devoid: barren of creative spirit
Origin of barren
Middle English
barain
from Old French
baraigne, brehaigne,
origin, originally used of land
an area of unproductive land
[usually pl.] land with poor soil and very few shrubs, trees, etc.
---
barren
adjective
a. Not producing or incapable of producing offspring. Used of female animals.

b. Often Offensive Not producing or incapable of producing offspring. Used of women.

Not producing or incapable of producing fruit: barren trees.
Lacking vegetation, especially useful vegetation: barren tundra.
Unproductive of results or gains; unprofitable: "That icy winter silence—how it froze you from your bride, / Tho' I made one barren effort to break it at the last!" ( Alfred Lord Tennyson ) See Synonyms at futile.
Devoid of something specified: writing barren of insight.
Lacking in liveliness or interest: a barren routine.
noun
often barrens A tract of unproductive land, often with a scrubby growth of trees.
Origin of barren
Middle English
barreine
from
Old French
brahaigne
perhaps of Germanic origin
Related Forms:
---
barren

Adjective
(comparative barrener or more barren, superlative barrenest or most barren)
(not comparable) unable to bear children; sterile

I silently wept as my daughter's husband rejected her. What would she do now that she was no longer a maiden but also barren?

of poor fertility, infertile; not producing vegetation
Unproductive; fruitless; unprofitable; empty.
Mentally dull; stupid.

Set on some quantity of barren spectators to laugh too. Shakespeare. Hamlet. III.ii. ca. 1602
Noun
(plural barrens)
An area of low fertility and habitation, a desolate place.

The pine barrens are a site lonely enough to suit any hermit.
Origin
From Old French baraigne ("sterile, barren").
---