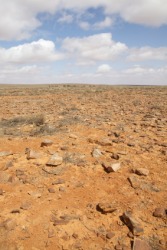 A wasteland in Australia.
noun
The definition of a wasteland is an area that has been damaged or is lacking in the positive qualities of life.

A city after a bombing attack is an example of a wasteland.
Visiting a city that doesn't have museums, galleries or studios is an example of an artistic wasteland.
---
wasteland
land that is uncultivated, barren, or without vegetation
a neglected, improperly managed, or intellectually unproductive activity, endeavor, etc.
---
wasteland
noun
Land that is desolate, barren, or ravaged.
Something that is lacking in intellectual or cultural substance: a critic who considers pop music a cultural wasteland.
---
wasteland

Noun
(plural wastelands)
A region with no remaining resources; a desert.

Ten years of drought had left the area a wasteland

Any barren or uninteresting place.

After his experiences, he no longer found western Kansas such a wasteland
---