noun
The definition of a marsh is a swampy area of lowlands.

A wet and swampy area is an example of a marsh.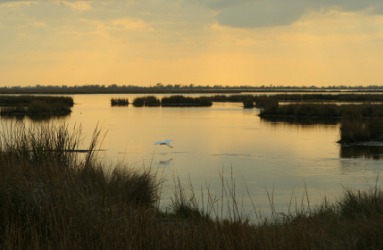 Sunset over a marsh.
---
marsh definition by Webster's New World
noun
a tract of low, wet, soft land that is temporarily, or permanently, covered with water, characterized by aquatic, grasslike vegetation; swamp; bog; morass; fen
Origin: Middle English mersch ; from Old English merisc, akin to Middle Low German mersch, marsch (from source German marsch) ; from Indo-European base an unverified form mori, sea from source mare
Marsh, Reginald 1898-1954; U.S. painter
Webster's New World College Dictionary Copyright © 2010 by Wiley Publishing, Inc., Cleveland, Ohio. Used by arrangement with John Wiley & Sons, Inc.
---
marsh definition by American Heritage Dictionary
noun
An area of soft, wet, low-lying land, characterized by grassy vegetation and often forming a transition zone between water and land.
Origin: Middle English, from Old English mersc; see mori- in Indo-European roots.
, Dame (Edith) Ngaio 1899-1982.
New Zealand writer known for her detective novels, including A Man Lay Dead (1934) and Last Ditch (1977).
, Reginald 1898-1954.
American painter whose works, such as Why Not Use the "L"? (1930), depict life in New York City.
The American Heritage® Dictionary of the English Language, 4th edition Copyright © 2010 by Houghton Mifflin Harcourt Publishing Company. Published by Houghton Mifflin Harcourt Publishing Company. All rights reserved.
---
marsh - Science Definition
An area of low-lying wetland in which the level of water is generally shallow and often fluctuating. The water may be either standing or slow-moving. The water in a marsh is also more or less neutral or alkaline, in contrast to the water in a bog, which is acidic. The environment of a marsh is in general well-oxygenated and nutrient-rich and allows a great variety of organisms to flourish. In contrast to a
swamp,
in which there is an abundance of woody plants, the plants in a marsh are mostly herbaceous. Reeds and rushes dominate the vegetation of marshes. See also
salt marsh
.