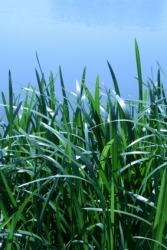 Calamus, or sweet flag, growing by the water.
---
sweet flag
a perennial marsh plant (Acorus calamus) of the arum family, with sword-shaped leaves, small, green flowers, and a sweet-scented rhizome
---
sweet flag
noun
A perennial herb (Acorus calamus) native to Eurasia and naturalized in North America, growing in marshy places and having grasslike leaves, minute greenish flowers borne on a thick spadix, and aromatic rhizomes used in medicine and perfumery. Also called calamus.
A similar plant (Acorus americanus) native to North America.
---
sweet flag
Noun
(plural sweet flags)
a perennial wetland plant, Acorus calamus, with an aromatic medicinal root, formerly used to strew floors, also known as calamus
---