reclaim

re·claim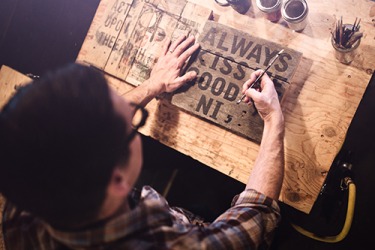 Tim reclaims scrap wood to create one-of-a-kind artistic signs.
verb
Reclaim is to take back something, or to find another purpose for waste or unusable material, or to rescue someone from a state of immorality.

If your car gets towed and you go to the impound lot to get it back, this is an example of when you reclaim your car.
When waste material is taken out of an old barn that is being torn down and you use the material to make floors for your home, this is an example of when you reclaim the wood.
When someone has begun engaging in prostitution or other immoral behavior and you help that person to get back on track and stop doing immoral acts, this is an example of when you reclaim.
---
reclaim
to rescue or bring back (a person or people) from error, vice, etc. to ways of living or thinking regarded as right; reform
to make (wasteland, desert, etc.) capable of being cultivated or lived on, as by filling, ditching, or irrigating
to recover (useful materials) from waste products
to retrieve (something lost, taken away, deposited temporarily, etc.); get back into one's possession

Obs.

to tame or subdue (a hawk)
Origin of reclaim
Middle English
reclaimen
from Old French
réclamer
from Classical Latin
reclamare,
to cry out against: see re- and claim
reclamation: beyond reclaim
---
reclaim
transitive verb
re·claimed, re·claim·ing, re·claims
To resume possession of; take back: reclaimed our luggage; reclaimed the heavyweight boxing title.
Chiefly British To legally request what is due: reclaimed the tax that is owed.
To require or deserve again: The movie reclaimed my attention.
To bring into or return to a suitable condition for use, as cultivation or habitation: reclaim marshlands; reclaim strip-mined land.
To procure (usable substances) from refuse or waste products; recycle.
To bring back, as from error, to a right or proper course; reform. See Synonyms at save1.
To use or reinterpret (a historically derogatory name or term) in a positive way, as in pride for one's social group.
To tame (a falcon, for example).
noun
Restoration to a previous or reformed state: a life beyond reclaim.
Origin of reclaim
Middle English
reclamen
to call back
from
Old French
reclamer
to entreat
from
Latin
reclāmāre
re-
re-
clāmāre
to cry out
; see
kelə-
2
in Indo-European roots.
Related Forms:
re·claim′ant re·claim′er

noun
---
reclaim

Verb
(third-person singular simple present reclaims, present participle reclaiming, simple past and past participle reclaimed)
To return someone to a proper course of action, or correct an error; to reform.
To tame or domesticate a wild animal.
To call back from flight or disorderly action; to call to, for the purpose of subduing or quieting.
To cry out in opposition or contradiction; to exclaim against anything; to contradict; to take exceptions.
Noun
(plural reclaims)
An effort to take something back, to reclaim something.
---