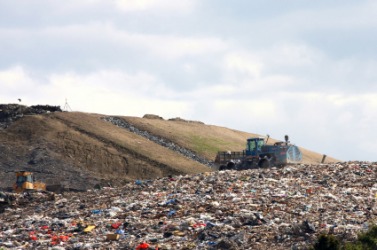 A landfill site.
noun
The definition of a landfill is a place where garbage is buried under the soil.

An example of a landfill is a place designated as the destination of loaded garbage trunks.
---
landfill
disposal of garbage, rubbish, etc. by burying it under soil or earth
a place used for this purpose
garbage, rubbish, etc. so disposed of
---
landfill
noun
a. A site for the disposal of solid waste in which refuse is buried between layers of dirt.

b. The disposal of waste at such a site.

a. The reclamation of land in low-lying areas by addition of gravel, rubble, or other loose material.

b. The material used for such reclamation.
transitive verb
land·filled, land·fill·ing, land·fills
To dispose of (waste material) in a landfill.
---
landfill

Verb
(third-person singular simple present landfills, present participle landfilling, simple past and past participle landfilled)
Noun
(plural landfills)
The material so disposed of.
---