heath

heath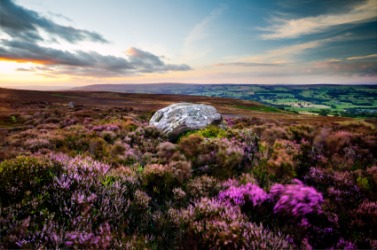 Sunset over the heath.
adjective
Heath is defined as part of the family Ericaceae of plants.

An example of something heath is a blueberry shrub.
noun
The definition of a heath is a wasteland, or a plant in the genera Erica or Calluna, or a former British Prime Minister.

An example of a heath is a dirty and open outdoor area.
An example of a heath is the heather plant.
An example of Heath was Britain's Prime Minister Edward Heath from 1970 to 1974.
---
heath
a tract of open wasteland, esp. in the British Isles, covered with heather, low shrubs, etc.; moor
any plant of the heath family; esp., any of various shrubs and plants (genera Erica and Calluna) that grow on heaths, as heather
Origin of heath
Middle English
hethe
from Old English
hæth
, akin to German
heide
, wasteland, heath from Indo-European base an unverified form
kaito-
, forested or uncultivated land from source Welsh
coed
, forest
designating a family (Ericaceae, order Ericales) of dicotyledonous woody shrubs and small trees, including the blueberry, mountain laurel, and rhododendrons
one's native heath
the place of one's birth or childhood
Heath
1916-2005; Eng. politician: prime minister (1970-74)
---
heath
noun
Any of various usually low-growing shrubs of the genus Erica and other genera of the heath family, native to Europe and South Africa and having small evergreen leaves and small, colorful, urn-shaped flowers. Also called heather .
An extensive tract of uncultivated open land covered with herbage and low shrubs; a moor.
Origin of heath
Middle English
uncultivated land
from
Old English
hǣth
; see
kaito-
in Indo-European roots.
---
heath

Usage notes
The word heaths may describe multiple disconnected heathlands.
Origin
From Middle English heeth, hethe, heth, from Old English hǣþ ("heath, untilled land, waste; heather"), from Proto-Germanic *haiþī ("heath, waste, untilled land"), from Proto-Indo-European *kait-, *ḱait- ("forest, wasteland, pasture"). Cognate with Dutch heide ("heath, moorland"), German Heide ("heath, moor"), Swedish hed ("heath, moorland"), Old Welsh coit ("forest"), Latin bū-cētum ("pastureland", literally "cow-pasture"), Albanian kath ("type of wheat"), kasht ("straw").
---