adjective
The definition of destitute refers to not having the basic necessities of life.

An example of destitute is a homeless person with no money.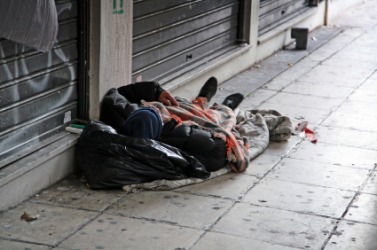 A destitute man sleeps on the street.
---
destitute definition by Webster's New World
adjective
not having; being without; lacking (with of): destitute of trees
lacking the necessities of life; living in complete poverty

Obsolete

abandoned; forsaken
Origin: Middle English ; from Classical Latin destitutus, past participle of destituere, to forsake, abandon ; from de-, down, away plush statuere, to set, place: see statute
Webster's New World College Dictionary Copyright © 2010 by Wiley Publishing, Inc., Cleveland, Ohio. Used by arrangement with John Wiley & Sons, Inc.
---
destitute definition by American Heritage Dictionary
adjective
Utterly lacking; devoid: Young recruits destitute of any experience.
Lacking resources or the means of subsistence; completely impoverished. See Synonyms at poor.
Origin: Middle English, from Latin dēstitūtus, past participle of dēstituere, to abandon : dē-, de- + statuere, to set; see stā- in Indo-European roots.
Related Forms: