adjective
The definition of wealthy is someone with many riches, especially material riches.

A person with a million dollars is an example of someone who might be described as wealthy.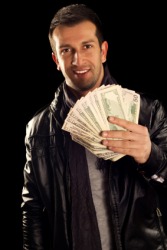 A wealthy man.
---
wealthy definition by Webster's New World
adjective
wealthier, wealthiest
having wealth; rich; prosperous; affluent
of, characterized by, or suggestive of wealth
rich or abundant (in something specified): talk wealthy in nuances
noun
☆ a red, medium-sized fall apple
Webster's New World College Dictionary Copyright © 2010 by Wiley Publishing, Inc., Cleveland, Ohio. Used by arrangement with John Wiley & Sons, Inc.
---
wealthy definition by American Heritage Dictionary
adjective
wealth·i·er
,
wealth·i·est
Having wealth; rich. See Synonyms at rich.
Marked by abundance: a wealthy land.
Well supplied: wealthy in compassion.
noun
(used with a pl. verb) Rich people considered as a group. Often used with the.
Related Forms: