adjective
The definition of abandoned is something that is unwanted and left behind.

A car left to rot in a junk yard by the owners is an example of abandoned.

Abandoned is defined as unconfined and unconcerned with social norms or restraints.

An example of a person acting with abandoned behavior is someone who steals a car and goes on a rampage without regard to the consequences.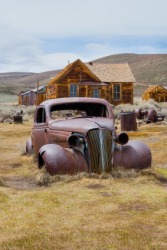 An old abandoned truck.
---
abandoned
adjective
given up; forsaken; deserted
shamefully wicked; immoral
unrestrained
---
abandoned
---
abandoned
---