derelict

der·e·lict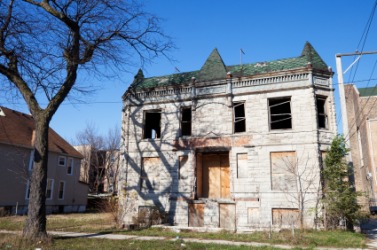 A derelict building.
adjective
The definition of derelict is something that has become deserted or neglected or a person who is grossly negligent in fulfilling his duties.

An example of derelict is a falling-down and rotted, abandoned house.
An example of derelict is when you fail to pay your child support.
noun
Derelict is defined as a person who has no assets, home, property or job.

An example of a derelict is a homeless person who lives on the streets.
---
derelict
deserted by the owner; abandoned; forsaken
neglectful of duty; remiss; negligent
Origin of derelict
Classical Latin
derelictus
, past participle of
derelinquere
, to forsake utterly, abandon from
de-
, intensive +
relinquere
: see relinquish
a property abandoned by the owner; esp., an abandoned ship on the open sea
a destitute person, without a home or regular job and rejected by society
land exposed by the receding of water
---
derelict
adjective
a. Deserted by an owner or keeper; abandoned: derelict railroad tracks.

b. Run-down; dilapidated: derelict buildings.

Neglectful of duty or obligation; remiss. See Synonyms at negligent.
noun
A homeless or jobless person; a vagrant.
Law

a. Abandoned property, especially a ship abandoned at sea.

b. Land left dry by a permanent recession of the water line.
Origin of derelict
Latin
dērelictus
past participle of
dērelinquere
to abandon
dē-
de-
relinquere
to leave behind
; see
relinquish
.
---
derelict

Adjective
(comparative more derelict, superlative most derelict)
Abandoned, forsake; given up or forsaken by the natural owner or guardian; (of ship) abandoned at sea; dilapidated, neglected.

There was a derelict ship on the island.

Negligent in performing a duty.
Lost; adrift; hence, wanting; careless; neglectful; unfaithful.
Noun
(plural derelicts)
Property abandoned by its former owner, especially a ship abandoned at sea.
(dated) An abandoned or forsaken person; an outcast.
A homeless and/or jobless person; a person who is (perceived as) negligent in their personal affairs and hygiene. (This sense is a modern development of the preceding sense.)
Origin
Latin derelictus perfect participle of dērelinquō ("I forsake, I abandon") from dē- + relinquō ("I forsake, I leave").
---
derelict - Legal Definition
n
adj
Archaic
An object that has been abandoned by its owner; an individual who is homeless, drunk or disorderly.
Of property, that it is abandoned; of a person, that he is remiss in his duties.
---