adjective
The definition of derelict is something that has become deserted or neglected or a person who is grossly negligent in fulfilling his duties.

An example of derelict is a falling-down and rotted, abandoned house.
An example of derelict is when you fail to pay your child support.
noun
Derelict is defined as a person who has no assets, home, property or job.

An example of a derelict is a homeless person who lives on the streets.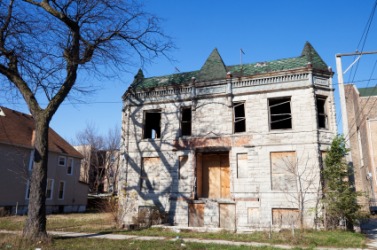 A derelict building.
---
derelict definition by Webster's New World
adjective
deserted by the owner; abandoned; forsaken
☆ neglectful of duty; remiss; negligent
Origin: Classical Latin derelictus, past participle of derelinquere, to forsake utterly, abandon ; from de-, intensive plush relinquere: see relinquish
noun
a property abandoned by the owner; esp., an abandoned ship on the open sea
a destitute person, without a home or regular job and rejected by society
land exposed by the receding of water
Webster's New World College Dictionary Copyright © 2010 by Wiley Publishing, Inc., Cleveland, Ohio. Used by arrangement with John Wiley & Sons, Inc.
---
derelict definition by American Heritage Dictionary
adjective
Deserted by an owner or keeper; abandoned.
Run-down; dilapidated.
Neglectful of duty or obligation; remiss. See Synonyms at negligent.
noun
Abandoned property, especially a ship abandoned at sea.
A homeless or jobless person; a vagrant.
Law Land left dry by a permanent recession of the water line.
Origin: Latin dērelictus, past participle of dērelinquere, to abandon : dē-, de- + relinquere, to leave behind; see relinquish.
The American Heritage® Dictionary of the English Language, 4th edition Copyright © 2010 by Houghton Mifflin Harcourt Publishing Company. Published by Houghton Mifflin Harcourt Publishing Company. All rights reserved.
---
derelict - Legal Definition
n
adj
Archaic
An object that has been abandoned by its owner; an individual who is homeless, drunk or disorderly.
Of property, that it is abandoned; of a person, that he is remiss in his duties.