adjective
The definition of shabby is something that appears run-down or worn-out.

An example of something shabby is a hotel that is old and badly-maintained.
An example of shabby is a shirt with holes and stains.

Shabby means unfair or low-quality.

An example of something shabby is saying someone didn't do a good job after they were told to stop working long before the deadline.
An example of something shabby is a badly made basket.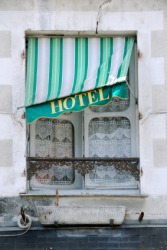 A very shabby hotel window.
---
shabby definition by Webster's New World
adjective
shabbier, shabbiest
run-down; dilapidated; deteriorated: shabby surroundings

showing much wear; ragged; threadbare: said of clothing
wearing such clothing; seedy

beggarly; unworthy: a shabby offering
disgraceful; shameful: shabby treatment of guests
Origin: ; from dialect, dialectal shab, scab, scoundrel ; from Old English sceabb, scab, scale: see scab
Webster's New World College Dictionary Copyright © 2010 by Wiley Publishing, Inc., Cleveland, Ohio. Used by arrangement with John Wiley & Sons, Inc.
---
shabby definition by American Heritage Dictionary
adjective
shab·bi·er
,
shab·bi·est
a. Showing signs of wear and tear; threadbare or worn-out: shabby furniture.

b. Dilapidated or deteriorated in condition, especially through neglect; seedy: a shabby little park.

Wearing threadbare clothing.

a. Despicable; mean: a shabby trick.

b. Not generous or just; unfair: shabby treatment.

c. Of mediocre or substandard quality: a shabby performance.
Origin: From obsolete shab, scab, from Middle English schab, from Old English sceabb.
Related Forms: