shabby

shab·by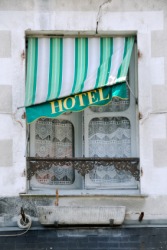 A very shabby hotel window.
adjective
Shabby means unfair or low-quality.

An example of something shabby is saying someone didn't do a good job after they were told to stop working long before the deadline.
An example of something shabby is a badly made basket.

The definition of shabby is something that appears run-down or worn-out.

An example of something shabby is a hotel that is old and badly-maintained.
An example of shabby is a shirt with holes and stains.
---
shabby
adjective
-·bier

,

-·bi·est
run-down; dilapidated; deteriorated: shabby surroundings

showing much wear; ragged; threadbare: said of clothing
wearing such clothing; seedy

beggarly; unworthy: a shabby offering
disgraceful; shameful: shabby treatment of guests
Origin of shabby
from dialect, dialectal
shab
, scab, scoundrel from Old English
sceabb
, scab, scale: see scab
---
shabby
adjective
shab·bi·er, shab·bi·est
a. Showing signs of wear and tear; threadbare or worn-out: shabby furniture.

b. Dilapidated or deteriorated in condition, especially through neglect; seedy: a shabby little park.

Wearing threadbare clothing.

a. Despicable; mean: a shabby trick.

b. Not generous or just; unfair: shabby treatment.

c. Of mediocre or substandard quality.
Origin of shabby
From
obsolete
shab
scab
from
Middle English
schab
from
Old English
sceabb
Related Forms:
---
shabby

Adjective
(comparative shabbier, superlative shabbiest)
Clothed with ragged, much worn, or soiled garments.

The fellow arrived looking rather shabby after journeying so far.

Mean; paltry; despicable.

shabby treatment
Part or all of this entry has been imported from the 1913 edition of Webster's Dictionary, which is now free of copyright and hence in the public domain. The imported definitions may be significantly out of date, and any more recent senses may be completely missing.
Origin
From shab ("scab") +"Ž -y, or directly from an alteration of scabby. Cognate with Scots shabby ("in poor health, ill"), Dutch schabbig ("poor, needy, shabby"), Middle Low German schabbich ("miserable"), German schäbig ("shabby"), Swedish skabbig ("scabby"), Swedish sjabbig ("shabby, mangy, scruffy").
---