respectable
re·spect·a·ble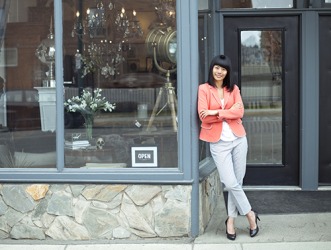 Huan built a respectable home decor business despite the challenges she has faced.
adjective
The definition of respectable is something of decent quality or size, or someone worthy of respect.

An example of respectable is a five-point win in a baseball game.
An example of respectable is someone who built a profitable business by themselves.
---
respectable
worthy of respect or esteem; estimable
conforming to socially acceptable behavior, attitudes, taste, etc.; proper; correct
fairly good in quality; of moderate excellence: a respectable meal
fairly large in size, number, or amount: a stock earning a respectable dividend
good enough to be seen, used, etc.; presentable: a respectable pair of shoes
Origin of respectable
Medieval Latin
respectabilis
---
respectable
adjective
Meriting respect or esteem; worthy.
Of or appropriate to good or proper behavior or conventional conduct.
Of moderately good quality: respectable work.
Considerable in amount, number, or size: a respectable sum of money.
Acceptable in appearance; presentable: a respectable hat.
Related Forms:
re·spect′a·bil′i·ty re·spect′a·ble·ness

noun
---
respectable

Adjective
(comparative more respectable, superlative most respectable)
deserving respect

His accomplishments, morals, loyalty, and stature make him a respectable person.

decent; satisfactory

Turn up to the interview wearing something respectable.
She plays a respectable game of chess.
He got a respectable B+ on his last exam.
---