proper

prop·er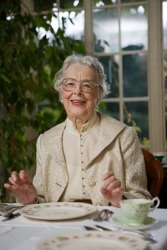 My grandmother likes using proper manners.
adjective
The definition of proper is appropriate or obeying manners and standards.

An example of proper used as an adjective is a proper gesture, such as putting ones napkin in your lap before eating.
adverb
Proper is defined as thoroughly and completely.

An example of something done proper is a science project finished correctly and all the way through, completed good and proper.
---
proper
specially adapted or suitable to a specific purpose or specific conditions; appropriate: the proper tool for a job
naturally belonging or peculiar (to): weather proper to April
conforming to an accepted standard or to good usage; correct: a proper spelling
fitting; seemly; right: proper modesty
decent; decorous; genteel: often connoting exaggerated respectability: "the proper Bostonians"
understood in its most restricted sense; strictly so called: usually following the noun modified: the population of Chicago proper (i.e., apart from its suburbs)

Brit.

complete; thorough: a proper scoundrel

Now Chiefly Dial.

fine; good; excellent
handsome

Eccles.

reserved for a particular day or festival: said of prayers, rites, etc.

Gram.

designating a noun that names a specific individual, place, etc., that is not normally used with an article, and that is normally capitalized: "Donald," "Rover," and "Boston" are proper nouns, sometimes called proper names
designating an adjective formed from a proper noun, as Bostonian

Heraldry

represented in its natural form or colors
Origin of proper
Middle English
propre
from Old French from Classical Latin
proprius
, one's own
completely; thoroughly
properly; correctly
the special office or prayers for a particular day or festival
those parts of the Mass which vary according to the particular day or festival
---
proper
adjective
Characterized by appropriateness or suitability; fitting: the proper knife for cutting bread; not a proper moment for a joke.
Called for by rules or conventions; correct: the proper form for a business letter.
Strictly following rules or conventions, especially in social behavior; seemly: a proper lady; a proper gentleman.

a. Belonging to one; own: restored to his proper shape by the magician.

b. Characteristically belonging to the being or thing in question; peculiar: an optical effect proper to fluids.

Being within the strictly limited sense, as of a term designating something: the town proper, excluding the suburbs.
Ecclesiastical For use in the liturgy of a particular feast or season of the year.
Mathematics Of or relating to a subset of a given set when the set has at least one element not in the subset.
Worthy of the name; true: wanted a proper dinner, not just a snack.
Out-and-out; thorough: a proper whipping.
adverb
Thoroughly: beat the eggs good and proper.
noun
also
Proper
Ecclesiastical
The portion of the liturgy that varies according to the particular feast or season of the year.
Origin of proper
Middle English
propre
from
Old French
from
Latin
proprius
; see
per
1
in Indo-European roots.
Related Forms:
---
proper

Adjective
(comparative more proper, superlative most proper)
Suitable.

Suited or acceptable to the purpose or circumstances; fit, suitable. [from 13th c.]

the proper time to plant potatoes

Possessed, related.

Accurate, strictly applied.

Excellent, of high quality; such as the specific person or thing should ideally be. (Now often merged with later senses.) [from 14th c.]

Now that was a proper breakfast.

(now regional) Attractive, elegant. [from 14th c.]
Adverb
(not comparable)
(Scotland) properly; thoroughly; completely
(nonstandard, slang) properly
Origin
From Anglo-Norman proper, propre, Old French propre (French: propre), and their source, Latin proprius.
---
proper - Legal Definition
See Necessary and Proper Clause.
---