seduce

se·duce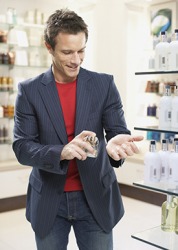 Barry tested several colognes at the mall to find the one that might help seduce his dinner date that evening.
verb
To seduce is to persuade someone to do something that is not considered proper conduct.

When you entice someone to go out on a date with you and to have intercourse with you, this is an example of seduce.
When easy money tempts you to do something wrong, this is an example of a situation where the promise of easy money seduced you.
---
seduce
transitive verb
-·duced′

,

-·duc′ing
to persuade to do something disloyal, disobedient, etc.
to persuade or tempt to evil or wrongdoing; lead astray
to persuade (someone) to engage, esp. for the first time, in illicit or unsanctioned sexual intercourse

to entice
Origin of seduce
Middle English
seduisen
from Ecclesiastical Late Latin
seducere
, to mislead, seduce from L, to lead aside from
se-
, apart (see secede) +
ducere
, to lead: see duct
---
seduce
transitive verb
se·duced, se·duc·ing, se·duc·es
To attract or lead (someone) away from proper behavior or thinking: "He had been in this way seduced from the wisdom of his cooler judgment" ( Anthony Trollope ) See Synonyms at lure.
To induce (someone) to engage in sexual activity, as by flirting or persuasion.
To entice into a different state or position: "Journalism may seduce

[a writer-professor]

from the campus" ( Irwin Erdman )
Origin of seduce
Middle English
seduisen
from
Old French
seduire
seduis-
alteration
(
influenced by
Medieval Latin
sēdūcere
to lead astray
)
of
suduire
to seduce
from
Latin
subdūcere
to withdraw
sub-
sub-
dūcere
to lead
; see
deuk-
in Indo-European roots.
Related Forms:
se·duce′a·ble se·duc′i·ble

adjective
---
seduce

Verb
(third-person singular simple present seduces, present participle seducing, simple past and past participle seduced)
To beguile or lure someone away from duty, accepted principles, or proper conduct; to lead astray.

He was seduced by the dark side of The Force. - Obi Wan Kenobi, Star Wars

To entice or induce someone to engage in a sexual relationship.

Mrs. Robinson, are you trying to seduce me? - Benjamin Braddock, The Graduate

(by extension, euphemistic) To have sexual intercourse with.

He had repeatedly seduced the girl in his car, hotels and his home.

To win over or attract someone.
---