coax

co·ax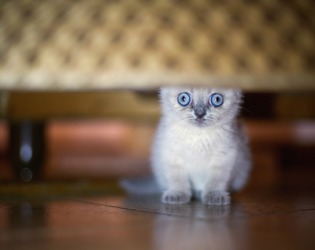 She tried to coax her frightened new kitten out from under the sofa.
verb
The definition of coax means to try to get someone or something to do something with gentle urging.

Using compliments to talk a friend into taking a dance class with you is an example of to coax.
Unclogging a drain with a plunger is an example of to coax.
---
coax
to induce or try to induce to do something; (seek to) persuade by soothing words, an ingratiating manner, etc.; wheedle
to get by coaxing
Origin of coax
origin, originally slang, "to make a
coax
of" from obsolete slang
coax, cox, cokes,
a fool, ninny
to use gentle persuasion, urging, etc.
short for coaxial (sense )
---
coax
verb
coaxed, coax·ing, coax·es
verb
transitive
To persuade or try to persuade by pleading or flattery; cajole.
To obtain by persistent persuasion: coaxed the secret out of the child.
Obsolete To caress; fondle.
To move to or adjust toward a desired end: "A far more promising approach to treating advanced melanoma is to coax the immune system to recognize melanoma cells as deadly" ( Natalie Angier )
verb
intransitive
To use persuasion or inducement.
Origin of coax
Obsolete
cokes
to fool
from
cokes
fool
Related Forms:
noun
Informal
A coaxial cable.
---
coax

Verb
(third-person singular simple present coaxes, present participle coaxing, simple past and past participle coaxed)
To wheedle, persuade (a person, organisation, animal etc.) gradually or by use of flattery to do something.

He coaxed the horse gently into the trailer.

To carefully manipulate into a particular desired state, situation or position.

They coaxed the rope through the pipe.
Origin
originally (1586) in the slang phrase to make a coax of, from earlier noun coax, cox, cokes "fool, simpleton", itself of obscure origin, perhaps related to cock (male bird, pert boy). The modern spelling is from 1706.
Noun
(plural coaxes)
Shortened form of coaxial cable
---
coax - Computer Definition

---
---