noun
The definition of lure is something that attracts a person or animal, especially something used specifically for the purposes of attracting or baiting an animal.

An example of lure is a worm used to catch a fish.
An example of lure is a high paying job that attracts a person.
verb
To lure is defined as to purposely attract someone or tempt someone to do something, often using a reward.

An example of lure is when you put out bait to try to get an animal to come to your trap.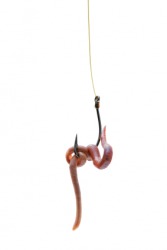 A worm is used here as a lure.
---
lure definition by Webster's New World
noun
a device consisting of a bunch of feathers on the end of a long cord, often baited with food: it is used in falconry to recall the hawk

the power of attracting, tempting, or enticing: the lure of the stage
anything that so attracts or tempts

a bait for animals; esp., an artificial one used in fishing
Origin: Middle English ; from Middle French leurre ; from Old French loirre, probably ; from Frankish or Gothic an unverified form lōthr, akin to Middle Dutch loder, lure, Old English lathian, to invite
Webster's New World College Dictionary Copyright © 2010 by Wiley Publishing, Inc., Cleveland, Ohio. Used by arrangement with John Wiley & Sons, Inc.
---
lure definition by American Heritage Dictionary
noun
a. Something that tempts or attracts with the promise of pleasure or reward.

b. An attraction or appeal.

A decoy used in catching animals, especially an artificial bait used in catching fish.
A bunch of feathers attached to a long cord, used in falconry to recall the hawk.
transitive verb
lured
lured
,
lur·ing
,
lures
To attract by wiles or temptation; entice.
To recall (a falcon) with a lure.
Origin: Middle English, from Anglo-Norman, of Germanic origin.
Related Forms: