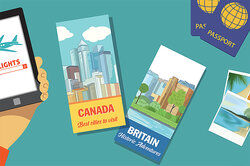 A brochure is a small book containing information or advertising material about a product or service. It's a promotional document, aimed at introducing a company or organization's offerings. It must be presented in a way that the person reading it will be intrigued by the product or service and want to learn more.
When the benefits are laid out in an enticing manner, you'll know you have a great brochure. Creating a brochure is much different than an essay, poem, letter, or any other form of writing. Let's review some tips on writing the contents of a brochure.
How to Create Great Brochure Content
Creating interesting brochure copy takes some time and reflection. Fear not, because once you know what elements of your business or product you want to highlight, there's no stopping how beautiful the finished product can be.
Let's say you're creating a brochure for a company that rents kayaks in Florida. You're not going to be able to write a brochure about every facet of the company. There's no room for that much information in a brochure.
Instead, pick a specific topic to write about. What's your angle? What's your sales pitch? Most of all, what makes your company unique? Perhaps your company takes guests for a ride on a glass-bottom boat before they arrive at the place in which they'll kayak. Even after you narrow down your choice to one topic, remember that a brochure can't cover all the information about that topic.
2. Create a Grabbing Title
Once you know your direction, it's time to create an eye-catching title. You don't have to be super clever here; you just want to be clear and encouraging.
Let's say you were creating a brochure for the Florida Tourism Board. You wouldn't want to name your Florida brochure something bland like, "Visit Florida." Rather, you might consider something like, "Top Kayaking Destinations on Florida's Gulf Coast," or "Soak Up the Sun: Florida Hotspots." The goal is to be clear, yet encouraging. Try to keep your titles limited to about six words.
No one wants to read a brochure that doesn't mention specific information. Imagine if that "Florida hotspots" brochure didn't include the names of locales. Or, what if a dental care brochure didn't mention the names of options?
Do your research and uncover the best information. Of course, never plagiarize. Use this as an opportunity to include exciting details while speaking in your own voice. Your enthusiasm will come through in your words.
Using our Florida Tourism Board example again, is there a neat little statistic about a particular kayaking destination? Or, what makes your chosen hotspot "hot"? Can people spot dolphins or manatees while there? Remember to be specific and highlight the details that hold the greatest potential to be eye-catching.
When people sit down to read a brochure, they're not expecting a novel. They want the most relevant and important information presented to them, with details on how they can find out more.
In the context of a brochure, it's important to keep the copy short. The goal is to get the reader to take action, like calling the kayak tour company or visiting Florida. As you mix your writing styles, be sure to offer quick summaries of your main offerings. So, in the kayaking example, you might include three types of tours available, what they include, what customers will see on each one, and a "starting from" price.
Writing one long paragraph about the entire topic will be boring for your reader. Break the topic up into appropriate headers. Use bullet points, numbers, and other lists to highlight the most pertinent information.
5. Consider Including Testimonials
We live our lives off reviews these days. We want to see what other people have to say about a certain company, product, or service before we invest our time and money. If you've ever received any positive feedback, ask that person for their permission to include their quote in your brochure. (You don't have to include their full name, or any name, but you should always ask for permission before quoting anyone.) You might also highlight some top reviews or awards from Yelp, TripAdvisor, Facebook, and other similar websites.
Brochures are supposed to offer the most important bits of information. However, readers will always gravitate toward the most visual guides. Include photographs wherever possible. Try to use your own photos. Stealing a picture that someone else took is plagiarism, and using tacky pictures that are not real will have a low-quality effect.
7. End With a Call to Action
Now that you've lured everyone in with your enticing facts, stats, pictures, and blocks of text, it's time to tell them how they can find out more. For example, "Call us today to reserve your seat on one of our glass-bottom boats!" Create a little sense of urgency and give potential customers or clients a direct path to the next step. This is why it's also important to feature your website prominently throughout the brochure.
That may seem like a lot of information. So, let's summarize it all with a few do's and don'ts.
DO spend time designing the cover. We mentioned the importance of enticing pictures but, out of all your photos, the cover shot must be the most appealing. You want people to walk past your brochure and feel the need to know more. This is where you'll overlay your clear title atop a captivating image.
DO maintain a little white space. The opposite of great photos and alluring content is a crammed or cluttered brochure. Take a look at these sample brochures. Notice no one was afraid of a little white space. Rather, it provides balance.
DO consider creative fonts. Fonts are important because they must be clear. A calligraphy font would not be well-suited for a brochure. But, you can step outside the constraints of Times New Roman for your brochure.
DON'T try to say it all. Remember our first point. You'll never be able to say it all in one, small brochure. So, be sure to consider your audience and think about what will make them raise an eyebrow or two.
DON'T be your own proofreader. It can be difficult to spot our mistakes in our own writing. You never want to do is print a brochure with grammatical inaccuracies. Ask a friend or family member with a keen eye for grammar to give your brochure a once-over before going to print. Better yet, hire a professional copy editor!
DON'T expect your brochure to "close the sale." Remember, a brochure is just the tipping point. Once a customer or client follows your call to action and reaches out for more information, then you can try to close the sale. This is just the lure on the end of the fishing line.
A brochure, whether it be in print or online, is a wonderful starting point for all your dreams. Remember you can't include it all; remember to be clear. Select fantastic photos that would entice anyone to take a second look. Maintain some of that white space for balance. And, finally, ask someone to proofread your work.
If this is your first time writing in a professional capacity, be sure to check out these tips for more effective writing. They'll help you turn your writing into a powerful communication tool.