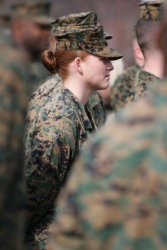 Soldiers in camouflage.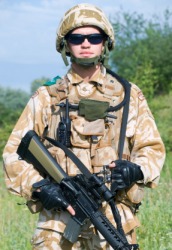 This soldiers camouflage uniform is often referred to as camo.
noun
The definition of camouflage refers to the process of making something less obvious such as military dress that allows soldiers to blend in with their surroundings, animal coloring that allows animals to blend in and actions taken to hide your true intentions.

An example of camouflage is green and white clothing worn by military men and women.
An example of camouflage is a chameleon's skin, which changes colors depending on his environment.
An example of camouflage is books you put in your backpack so you can pretend to go to the library when really you are sneaking out to a party.
verb
To camouflage is defined as to hide or disguise yourself.

An example of camouflage is when you dress in certain colors so you will blend in with your environment.
---
camouflage
the disguising of troops, ships, guns, etc. to conceal them from the enemy, as by the use of paint, nets, or leaves in patterns merging with the background
a disguise or concealment of this kind
any device or action used to conceal or mislead; deception
Origin of camouflage
French from
camoufler
, to disguise; probably altered (infl. by
camouflet
, puff of smoke) from Italian
camuffare
, to disguise
transitive verb
intransitive verb
-·flaged·

,

-·flag·ing
to disguise (a thing or person) in order to conceal
---
camouflage
noun
The concealing of personnel or equipment from an enemy by making them appear to be part of the natural surroundings.
A shape or coloring that conceals: The leopard's camouflage makes it blend in with the forest shadows.

a. Cloth, netting, or other material used for camouflage: spread the camouflage over the tank.

b. Fabric or a garment dyed in splotches of green, brown, and tan, used for camouflage in certain environments.
verb
cam·ou·flaged, cam·ou·flag·ing, cam·ou·flag·es
verb
transitive
To conceal by the use of camouflage.
To conceal, usually through misrepresentation or other artifice: camouflaged their hatred with professions of friendship. See Synonyms at disguise.
verb
intransitive
To use camouflage for concealment.
Origin of camouflage
French
from
camoufler
to disguise
alteration
(
influenced by
camouflet
snub, smoke blown in one's face
)
of
Italian
camuffare
Related Forms:
camouflage
top: camouflage clothing
bottom: treehopper camouflaged as a thorn
camouflage
---
camouflage

Verb
(third-person singular simple present camouflages, present participle camouflaging, simple past and past participle camouflaged)
Origin
Borrowing from French camouflage, from camoufler ("to veil, disguise"), alteration (due to camouflet "smoke blown in one's face") of Italian camuffare ("to muffle the head"), from ca- (from Italian capo "head") + muffare ("to muffle"), from Medieval Latin muffula, muffla ("muff"), from Frankish *molfell ("soft garment made of hide") from *mol ("softened, forworn") (akin to Old High German molawēn "to soften", Middle High German molwic "soft") + *fell ("hide, skin"), from Proto-Germanic *fellą ("skin, film, fleece"), from Proto-Indo-European *pel(e)(w)-, *plē(w)- ("skin, hide"). Akin to Old High German fel ("fell, skin, hide"), Old English fell ("fell, skin, hide"). Alternate etymology traces the Italian and Medieval Latin words to Middle High German mouwe, mōwe ("sleeve") (German Muff "muff", Dutch mouw "sleeve") from Proto-Germanic *mawwō ("sleeve") + fell "skin". More at mulch, fell.
---