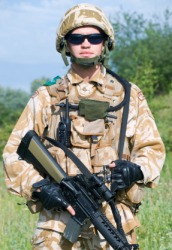 This soldiers camouflage uniform is often referred to as camo.
---
camo
☆
noun
Slang

camouflage
a garment, hat, etc. made of fabric having patterns of or like the mottled brown or green and brown colors of military camouflage
---
camo
noun
pl.
cam·os
Informal
Camouflage fabric.
often camos A pair of pants or an outfit made of camouflage fabric.
Origin of camo
Short for
camouflage
.
---
camo
Noun
(plural camos)
(textiles) A pattern on clothing consisting of irregularly shaped patches that are either greenish/brownish, brownish/whitish, or bluish/whitish, as used by ground combat forces.
Clothes made from camouflage fabric, for concealment in combat or hunting.
Verb
(third-person singular simple present camos, present participle camoing, simple past and past participle camoed)
(informal) To camouflage.
(informal) To put on camouflage clothing.
---