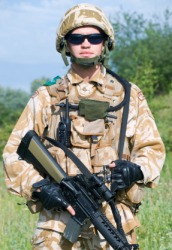 This soldiers camouflage uniform is often referred to as camo.
---
camo
☆
noun
Slang

camouflage
a garment, hat, etc. made of fabric having patterns of or like the mottled brown or green and brown colors of military camouflage
---
camo
noun
pl.
cam·os
Informal
Camouflage fabric.
often camos A pair of pants or an outfit made of camouflage fabric.
Origin of camo
Short for
camouflage
.
---
camo
---