adjective
The definition of blind is someone or something not able or not willing to see or understand.

An example of blind is a person who loses their sight after an accident.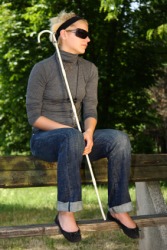 A blind woman sitting on a fence.
---
blind
adjective
without the power of sight; unable to see; sightless
of or for sightless persons
not able or willing to notice, understand, or judge
done without adequate directions or knowledge: a blind search
having certain information concealed or withheld intentionally: a blind ad, a blind test
disregarding evidence, sound logic, etc.: blind love, blind faith
reckless; unreasonable
out of sight; hard to see; hidden: a blind driveway
dense; impenetrable: a blind hedge
closed at one end: a blind duct
not controlled by intelligence: blind destiny

insensible

Slang

drunk

illegible; indistinct: a blind letter
not bearing flowers or fruit: said of an imperfectly developed plant
guided only by flight instruments, as in a storm: a blind landing

Archit.

having no opening: a blind wall

Bookbinding

designating stamping or tooling done without ink or foil
Origin of blind
Middle English and amp; OE: see blend
transitive verb
to make sightless
to make temporarily unable to see; dazzle
to deprive of the power of insight or judgment
to make dim; obscure
to outshine or eclipse
to hide or conceal
noun
anything that obscures or prevents sight

anything that keeps out light, as a window shade or shutter

☆ a place of concealment, as for a hunter; ambush

a person or thing used to deceive or mislead; decoy
a person who, while appearing to act out of self-interest, really acts on behalf of another
adverb
blindly; specif., so as to be blind, insensible, etc.
recklessly
guided only by flight instruments: to fly blind
sight unseen: to buy a thing blind
---
blind
adjective
blind·er
,
blind·est
a. Sightless.

b. Having a maximal visual acuity of the better eye, after correction by refractive lenses, of one-tenth normal vision or less (20/200 or less on the Snellen test).

c. Of, relating to, or for sightless persons.

a. Performed or made without the benefit of background information that might prejudice the outcome or result: blind taste tests used in marketing studies.

b. Performed without preparation, experience, or knowledge: a blind stab at answering the question.

c. Performed by instruments and without the use of sight: blind navigation.

Unable or unwilling to perceive or understand: blind to a lover's faults.
Not based on reason or evidence; unquestioning: put blind faith in their leaders.
Slang Drunk.
Lacking reason or purpose: blind fate; blind choice.

a. Difficult to comprehend or see; illegible.

b. Incompletely or illegibly addressed: blind mail.

c. Hidden from sight: a blind seam.

d. Screened from the view of oncoming motorists: a blind driveway.

e. Secret or otherwise undisclosed: a blind item in a military budget.

Closed at one end: a blind socket; a blind passage.
Having no opening: a blind wall.
Botany Failing to produce flowers or fruits: a blind bud.
noun
(used with a pl. verb) Blind people considered as a group. Used with the: a radio station for reading to the blind.
often blinds Something, such as a window shade or a Venetian blind, that hinders vision or shuts out light.
A shelter for concealing hunters, photographers, or observers of wildlife.
Something intended to conceal the true nature, especially of an activity; a subterfuge.
A forced bet in poker that is placed before the cards are dealt.
adverb
a. Without seeing; blindly.

b. Without the aid of visual reference: flew blind through the fog.

Without forethought or provision; unawares: entered into the scheme blind.
Without significant information, especially that might affect an outcome or result: "When you read blind, you see everything but the author" (Margaret Atwood).
Informal Into a stupor: drank themselves blind.
Used as an intensive: Thieves in the bazaar robbed us blind.
transitive verb
blind·ed
,
blind·ing
,
blinds
To deprive of sight: was blinded in an industrial accident.
To dazzle: skiers temporarily blinded by sunlight on snow.
To deprive of perception or insight: prejudice that blinded them to the proposal's merits.
To withhold light from: Thick shrubs blinded our downstairs windows.
Origin of blind
Middle English, from Old English; see
bhel-
1
in Indo-European roots.
Related Forms:
blind
---
blind
Adjective
(comparative blinder, superlative blindest)
(not comparable, of a person or animal) Unable to see, due to physiological or neurological factors.
(not comparable, of an eye) Unable to be used to see, due to physiological or neurological factors.
(comparable) Failing to see, acknowledge, perceive.

The lovers were blind to each other's faults.
Authors are blind to their own defects.

(not comparable) Of a place, having little or no visibility.

a blind path; a blind ditch; a blind corner

(not comparable) Having no openings for light or passage.

a blind wall, open only at one end; a blind alley; a blind gut

smallest or slightest in phrases such as

I shouted, but he didn't take a blind bit of notice.
We pulled and pulled, but it didn't make a blind bit of difference.

(not comparable) without any prior knowledge.

He took a blind guess at which fork in the road would take him to the airport.

(not comparable) unconditional; without regard to evidence, logic, reality, accidental mistakes, extenuating circumstances, etc.

blind deference
blind punishment

Unintelligible or illegible.

a blind passage in a book; blind writing

(horticulture) Abortive; failing to produce flowers or fruit.

blind buds; blind flowers
Noun
(plural blinds)
A covering for a window to keep out light. The covering may be made of cloth or of narrow slats that can block light or allow it to pass.
A destination sign mounted on a public transport vehicle displaying the route destination, number, name and/or via points, etc.
Something to mislead the eye or the understanding, or to conceal some covert deed or design; a subterfuge.
(military) A blindage.
A halting place.

(baseball, slang, 1800s) No score.
(poker) A forced bet.
(poker) A player who is or was forced to make a bet.
Verb
(third-person singular simple present blinds, present participle blinding, simple past and past participle blinded)
To make temporarily or permanently blind.

The light was so bright that for a moment he was blinded.
Don't wave that pencil in my face - do you want to blind me?

To darken; to obscure to the eye or understanding; to conceal.
To cover with a thin coating of sand and fine gravel; as a road newly paved, in order that the joints between the stones may be filled.
Adverb
(comparative more blind, superlative most blind)
Without seeing; unseeingly.
---