illegible

il·leg·i·ble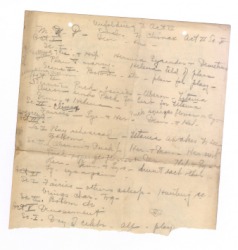 This writing is illegible.
adjective
The definition of illegible is something that can't be read because the handwriting is so bad or because it is otherwise so unclear.

An example of illegible is a scribbled note by a sloppy young child.
---
illegible
very difficult or impossible to read because badly written or printed, faded, etc.
Origin of illegible
from in- + legible
---
illegible
adjective
Not legible or decipherable.
Related Forms:
il·leg′i·bil′i·ty il·leg′i·ble·ness

noun
---
illegible

---