gouge

gouge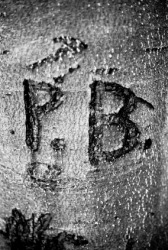 Initials have been gouged into a tree trunk.
noun
The definition of a gouge is a dent or rough hole or indentation.

When a piece of wood has a big dent in it, this is an example of a gouge.
verb
To gouge is defined as to create a dent or a disfiguring rough hole or groove, or to cheat someone by charging higher prices than what is fair.

When you take a knife and cut on the counter top, denting the wood counter below it, this is an example of a time when you gouge the counter.
When you charge someone $400 for something that cost you $2 only because he does not know any better, this is an example of a time when you gouge.
---
gouge
a chisel with a curved, hollowed blade, for cutting grooves or holes in wood

an act of gouging
the groove or hole made by gouging

any deep groove or hole that is considered a blemish

Informal

an act of overcharging or cheating of money; extortion or swindle
Origin of gouge
Middle English from Old French from Vulgar Latin
gubia
, for Late Latin
gulbia
from Celtic (as in Old Irish
gulban
, goad, thorn) from Indo-European base an unverified form
gelebh-
, to scrape, hollow out from source Classical Greek
glaphein
, to carve
transitive verb
gouged

,

goug′ing
to make a groove, hole, etc. in (something) with or as with a gouge
to scoop out; dig or force out: to gouge out dirt
in fighting, to push one's thumb into the eye of

Informal

to cheat out of money, etc.; also, to overcharge

---
gouge
noun
A chisel with a blade that has a rounded, angled, or troughlike indentation along its length.

a. A scooping or digging action, as with such a chisel.

b. A groove or hole scooped with or as if with such a chisel.

Informal A large amount, as of money, exacted or extorted.
transitive verb
gouged, goug·ing, goug·es
To cut or scoop out with or as if with a gouge: "He began to gouge a small pattern in the sand with his cane" ( Vladimir Nabokov )

a. To force out the eye of (a person) with one's thumb.

b. To thrust one's thumb into the eye of.

Informal To extort from.
Slang To swindle.
Origin of gouge
Middle English
from
Old French
from
Late Latin
gubia
variant of
gulbia
of Celtic origin
Related Forms:
gouge
left to right: hollow, parting, and fluting gouges
---
gouge

Verb
(third-person singular simple present gouges, present participle gouging, simple past and past participle gouged)
Origin
Noun from Old French gouge, itself from Late Latin gulbia ("piercer"), from Gaulish (compare Scottish Gaelic gilb ("chisel"), Welsh gylyf ("sickle")), from *gulbi ("beak") (compare Old Irish gulba, Welsh gylf, Old Breton golb).
---