nick

nick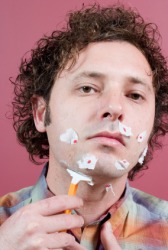 This man has nicked himself while shaving.
noun
The definition of a nick is a small, shallow cut or notch, or a male's name.

An example of a nick is a tiny cut from shaving.
An example of Nick is a shortened version of Nicholas.
verb
Nick is defined as to cut short or to put a tiny cut in something.

An example of nick is to cause a tiny cut with a razor when shaving.
---
nick
a small notch or slit; esp., a small cut, indentation or chip made accidentally on the edge or surface of wood, metal, china, etc.
a notch in the lower side of the shank of a printing type, for identification

Brit., Slang

prison; jail

Brit., Slang

condition; state: a used car in good nick
Origin of nick
Late Middle English
nyke
, probably akin to
nocke
, notch
to make a nick or nicks in

Now Rare

to score or tally by means of notches

to wound superficially
to strike lightly and glancingly

to strike or catch at the exact or proper time; hit, guess, grasp, etc. exactly

Slang

to overcharge or cheat

Brit., Slang

to arrest; nab
to steal
in the nick of time
exactly when needed; just before it is too late
Nick
---
nick
noun
A shallow notch, cut, or indentation on an edge or a surface: nicks in the table; razor nicks on his chin.
Chiefly British Slang A prison or police station.
Printing A groove down the side of a piece of type used to ensure that it is correctly placed.
transitive verb
nicked, nick·ing, nicks
a. To cut a nick or notch in.

b. To cut into and wound slightly: A sliver of glass nicked my hand.

To cut short; check: nicked an impulse to flee.
Slang To cheat, especially by overcharging.
Chiefly British Slang

a. To steal.

b. To arrest.
Origin of nick
Middle English
nik
possibly alteration
(
influenced by
nokke
notch
)
of
niche
; see
niche
.
---
nick

Verb
(third-person singular simple present nicks, present participle nicking, simple past and past participle nicked)
To mar; to deface; to make ragged, as by cutting nicks or notches in.

I nicked myself while I was shaving.

To suit or fit into, as by a correspondence of nicks; to tally with.
To hit at, or in, the nick; to touch rightly; to strike at the precise point or time.
(slang) To steal.

Someone's nicked my bike!

(UK, slang) To arrest.

The police nicked him climbing over the fence of the house he'd broken into.

(cricket) to hit the ball with the edge of the bat and produce a fine deflection
To throw or turn up (a number when playing dice); to hit upon.
To make a cross cut or cuts on the underside of (the tail of a horse, in order to make him carry it higher).
---