noun
The definition of a decoy is something used to trick or mislead, such as a fake weapon in war or a fake bird used by hunters or something used to lead someone into a trap.

A duck used by a hunter to try to attract other ducks is an example of a decoy.
An attractive undercover police officer who is attempting to trick a man who is attacking woman into coming out and attacking her is an example of a decoy.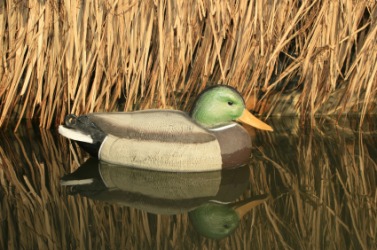 A duck decoy.
---
decoy definition by Webster's New World
noun
a place into which wild ducks, etc. are lured for capture
an artificial bird or animal, or sometimes a trained live one, used to lure game to a place where it can be shot
a thing or person used to lure or tempt into danger or a trap: a police decoy
Origin: ; from Dutch de kooi, the cage ; from de, def. article (grammar) (akin to the) plush kooi, cage ; from West Germanic an unverified form kawia ; from Classical Latin cavea, cage
transitive verb
,
intransitive verb
to lure or be lured into a trap, danger, etc.
Webster's New World College Dictionary Copyright © 2010 by Wiley Publishing, Inc., Cleveland, Ohio. Used by arrangement with John Wiley & Sons, Inc.
---
decoy definition by American Heritage Dictionary
noun
a. A living or artificial bird or other animal used to entice game into a trap or within shooting range.

b. An enclosed place, such as a pond, into which wildfowl are lured for capture.

A means used to mislead or lead into danger.
transitive verb
de·coyed
,
de·coy·ing
,
de·coys
To lure or entrap by or as if by a decoy. See Synonyms at
lure
.
Origin: Possibly from Dutch de kooi, the cage : de, the (from Middle Dutch; see to- in Indo-European roots) + kooi, cage (from Middle Dutch cōie, from Latin cavea).
Related Forms: