decoy

de·coy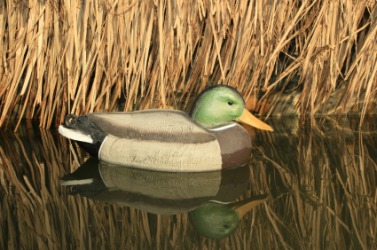 A duck decoy.
noun
The definition of a decoy is something used to trick or mislead, such as a fake weapon in war or a fake bird used by hunters or something used to lead someone into a trap.

A duck used by a hunter to try to attract other ducks is an example of a decoy.
An attractive undercover police officer who is attempting to trick a man who is attacking woman into coming out and attacking her is an example of a decoy.
---
decoy
a place into which wild ducks, etc. are lured for capture
an artificial bird or animal, or sometimes a trained live one, used to lure game to a place where it can be shot
a thing or person used to lure or tempt into danger or a trap: a police decoy
Origin of decoy
from Dutch
de kooi
, the cage from
de
, def. article (grammar) (akin to the) +
kooi
, cage from West Germanic an unverified form
kawia
from Classical Latin
cavea
, cage
to lure or be lured into a trap, danger, etc.
---
decoy
noun
a. A living or artificial bird or other animal used to entice game into a trap or within shooting range.

b. An enclosed place, such as a pond, into which wildfowl are lured for capture.

A means used to mislead or lead someone into danger.
transitive verb
de·coyed, de·coy·ing, de·coys
To lure (an animal) into a trap or position to be hunted.
To entice or mislead by deception or into danger. See Synonyms at lure.
Origin of decoy
Possibly from
Dutch
de kooi
the cage
de
the
(
from
Middle Dutch; see
to-
in Indo-European roots.)
kooi
cage
(
from
Middle Dutch
cōie
) (
from
Latin
cavea
)
Related Forms:
decoy
---
decoy

Verb
(third-person singular simple present decoys, present participle decoying, simple past and past participle decoyed)
To act or use a decoy.
To lead into danger by artifice; to lure into a net or snare; to entrap.

to decoy troops into an ambush; to decoy ducks into a net
---