noun
The definition of a shadow is a reflection of something produced by light hitting the object or someone who follows another person around.

An example of shadow is when you see your silhouette on the ground when you go outside on a sunny day.
An example of shadow is a faithful dog that follows behind you all day.

Shadow is defined as either a dark part of something or to an area of complete darkness.

An example of shadow is a dark or shaded area on a photograph.
An example of shadow is a pitch dark alley from where a scary figure emerges.
An example of shadow is when your lamp falls in such a way that you a part of the page of your book looks much darker than other parts of the page.

Shadow is something that lasts only for a moment or is just a hint of something.

An example of shadow is when it looks like war might end and we'll have peace, but then the conflict immediately starts again.
An example of shadow is when you have a tiny little doubt about whether the prison you are about to marry is right for you.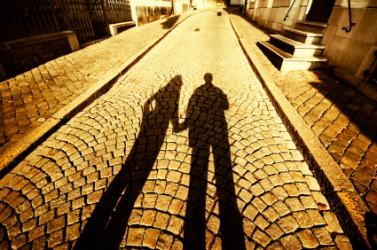 Two long shadows on an old street.
---
shadow definition by Webster's New World
noun
a definite area of shade cast upon a surface by a body intercepting the light rays
the dark image made by such a body
the growing darkness after sunset

a feeling of gloom or depression, a suggestion of doubt, etc.
anything causing gloom, doubt, etc.

a shaded area in a picture or X-ray
a dark area, as of a very short growth of beard
a mirrored image; reflection

something without reality or substance; imaginary vision
a ghost; apparition

a vague indication or omen; prefiguration: coming events cast their shadows before

a faint suggestion or appearance; trace: not a shadow of hope
remnant; vestige: a mere shadow of his former self

a close or constant companion
☆ a person who trails another closely, as a detective or spy

Rare

protection or shelter
Origin: Middle English schadwe ; from inflected forms (gen. and amp; dative sceadwe) of Old English sceadu, shade
transitive verb
Archaic

to shelter from light or heat
to shelter; protect

to throw a shadow upon
to make dark or gloomy; cloud
to represent vaguely, mystically, or prophetically; prefigure: often with forth
to stay close to or follow, esp. in secret so as to observe the movements and activities of
intransitive verb
to change gradually
to become shadowy or clouded (with doubt, sorrow, etc.): said of the features
adjective
of or belonging to a shadow cabinet: a shadow minister
darker, indistinct, not plainly perceived, etc.
Webster's New World College Dictionary Copyright © 2010 by Wiley Publishing, Inc., Cleveland, Ohio. Used by arrangement with John Wiley & Sons, Inc.
---
shadow definition by American Heritage Dictionary
noun
An area that is not or is only partially irradiated or illuminated because of the interception of radiation by an opaque object between the area and the source of radiation.
The rough image cast by an object blocking rays of illumination. See Synonyms at shade.
An imperfect imitation or copy.
shadows The darkness following sunset.
A feeling or cause of gloom or unhappiness: The argument cast a shadow on their friendship.

a. A nearby or adjoining region; vicinity: grew up in the shadow of the ballpark.

b. A dominating presence or influence: spent years working in the shadow of the lab director.

a. A darkened area of skin under the eye. Often used in the plural.

b. An incipient growth of beard that makes the skin look darker.

A shaded area in a picture or photograph.
A mirrored image or reflection.
A phantom; a ghost.

a. One, such as a detective or spy, that follows or trails another.

b. A constant companion.

c. Sports A player who guards an opponent closely.

A faint indication; a foreshadowing.
A vestige or inferior form: shadows of their past achievements.
An insignificant portion or amount; a trace: beyond a shadow of a doubt.
Shelter; protection: under the shadow of their corporate sponsor.
verb
shad·owed
,
shad·ow·ing
,
shad·ows
verb
, transitive
To cast a shadow on; shade.
To make gloomy or dark; cloud.
To represent vaguely, mysteriously, or prophetically.
To darken in a painting or drawing; shade in.
To follow, especially in secret; trail.
Sports To guard (an opponent) closely throughout the playing area, especially in ice hockey.
verb
, intransitive
To change by gradual degrees.
To become clouded over as if with shadows: Her face shadowed with sorrow.
adjective
Not having official status: a shadow government of exiled leaders; a shadow cabinet.
Origin: Middle English, from Old English sceaduwe, oblique case of sceadu, shade, shadow.
Related Forms:
Word History:
Shade
and
shadow
are not only related in meaning; historically they are the same word. In Old English, the ancestor of Modern English spoken a thousand years ago, nouns were inflected; that is, they had different forms depending on how they were used in a sentence. One of the inflected forms of the Old English noun
sceadu,
translatable as either "shade" or "shadow," was
sceaduwe
; this form was used when the word was preceded by a preposition (as in
in sceaduwe,
"in the shade, in shadow"). As time went on these two forms of the same word were interpreted as two separate words. The same thing happened to other Old English words, too: our
mead
and
meadow
come from two different case-forms of the same Old English word for "meadow."
The American Heritage® Dictionary of the English Language, 4th edition Copyright © 2010 by Houghton Mifflin Harcourt Publishing Company. Published by Houghton Mifflin Harcourt Publishing Company. All rights reserved.
---
shadow - Phrases/Idioms
in the shadow of
or
under the shadow of
very close to; verging upon
under the influence or domination of
under the shadow of
in danger of; apparently fated for