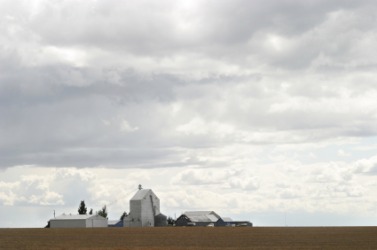 An overcast day.
adjective
The definition of overcast is cloudy or gray weather, or something that has been edged with stitches to stop it from fraying.

A dull, gray day where the clouds cover the sun is an example of a day that would be described as overcast.
The stiched end of a cut piece of fabric is an example of something that would be described as overcast.
---
overcast
a covering, esp. of clouds
cloudy; dark: said of the sky or weather

Sewing

made with overcasting
transitive verb
intransitive verb
-·cast·

,

-·cast·ing
to overcloud; darken

Sewing

to sew over (an edge) with long, loose stitches so as to prevent raveling
---
overcast
adjective
a. Covered or obscured, as with clouds or mist.

b. Clouded over.

Gloomy; melancholy.
Sewn with long, overlying stitches in order to prevent raveling, as the raw edges of fabric.
noun
A covering, as of mist or clouds.
An arch or support for a passage over another passage in a mine.
A cast made in fishing that falls beyond the point intended.
An overcast stitch or seam.
verb
o·ver·cast, o·ver·cast·ing, o·ver·casts
verb
transitive
To make cloudy or gloomy.
To cast beyond (the intended point) with a fishing rod.
To sew with long, overlying stitches.
verb
intransitive
To become cloudy or gloomy.
---
overcast

---