blur

blur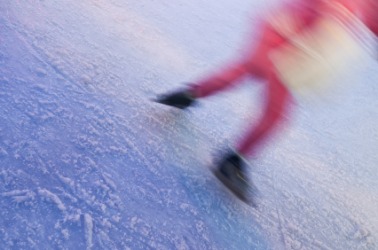 The blurred image of a skater in motion.
noun
The definition of a blur is something being unclear or smudged, or something that is unclear in a person's mind.

An example of a blur is an event that a person does not remember well.
verb
Blur means to smudge or make something indistinct or hazy.

An example of blur is for the sun to block a driver's vision.
---
blur
transitive verb
intransitive verb
blurred

,

blur′ring
to smear or stain without obliterating; blot; smudge
to make or become hazy or indistinct in outline or shape
to make or become dim or dull
Origin of blur
16th circa ; uncertain or unknown; perhaps akin to blear
the state of being blurred
an obscuring stain or blot
anything indistinct or hazy to the sight or the mind

Archaic

a moral stain
---
blur
verb
blurred, blur·ring, blurs
verb
transitive
To make indistinct and hazy in outline or appearance; obscure: The haze blurred the skyline.
To make dim, unclear, or cloudy: The smoke blurred my vision.
To cause to be intellectually indistinguishable: New thinking has blurred the divisions between disciplines.
verb
intransitive
To become visually indistinct: The faces blurred in the crowd.
To be unclear or clouded: His vision blurred as the drug took effect.
To become intellectually indistinguishable: TV commercials and shows seem to blur into one another.
noun
Something that is hazy and indistinct to the sight or mind.
Origin of blur
Probably akin to
Middle English
bleren
to blear
Related Forms:
---
blur

---
blur - Computer Definition
---