noun
The definition of a blur is something being unclear or smudged, or something that is unclear in a person's mind.

An example of a blur is an event that a person does not remember well.
verb
Blur means to smudge or make something indistinct or hazy.

An example of blur is for the sun to block a driver's vision.
YourDictionary definition and usage example. Copyright © 2013 by LoveToKnow Corp.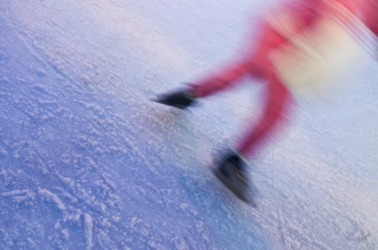 The blurred image of a skater in motion.
Licensed from iStockPhoto
---
transitive verb
,
intransitive verb
blurred, blurring
to smear or stain without obliterating; blot; smudge
to make or become hazy or indistinct in outline or shape
to make or become dim or dull
Origin: 16th circa ; uncertain or unknown; perhaps akin to blear
noun
the state of being blurred
an obscuring stain or blot
anything indistinct or hazy to the sight or the mind

Archaic

a moral stain
Webster's New World College Dictionary
Copyright © 2010 by Wiley Publishing, Inc., Cleveland, Ohio.
Used by arrangement with John Wiley & Sons, Inc.
---
verb
blurred
blurred
,
blur·ring
,
blurs
verb
, transitive
To make indistinct and hazy in outline or appearance; obscure.
To smear or stain; smudge.
To lessen the perception of; dim: "For street children . . . drugs offer the chance to blur their hopeless poverty" (Alma Guillermoprieto).
verb
, intransitive
To become indistinct.
To make smudges or stains by smearing.
noun
A smear or blot; a smudge.
Something that is hazy and indistinct to the sight or mind.
Origin: Probably akin to Middle English bleren, to blear.
Related Forms:
The American Heritage® Dictionary of the English Language
, 4th edition Copyright © 2010 by Houghton Mifflin Harcourt Publishing Company. Published by Houghton Mifflin Harcourt Publishing Company. All rights reserved.
---
blur - Computer Definition
Computer Desktop Encyclopedia
THIS DEFINITION IS FOR PERSONAL USE ONLY
All other reproduction is strictly prohibited without permission from the publisher.
© 1981-2014 The Computer Language Company Inc. All rights reserved.