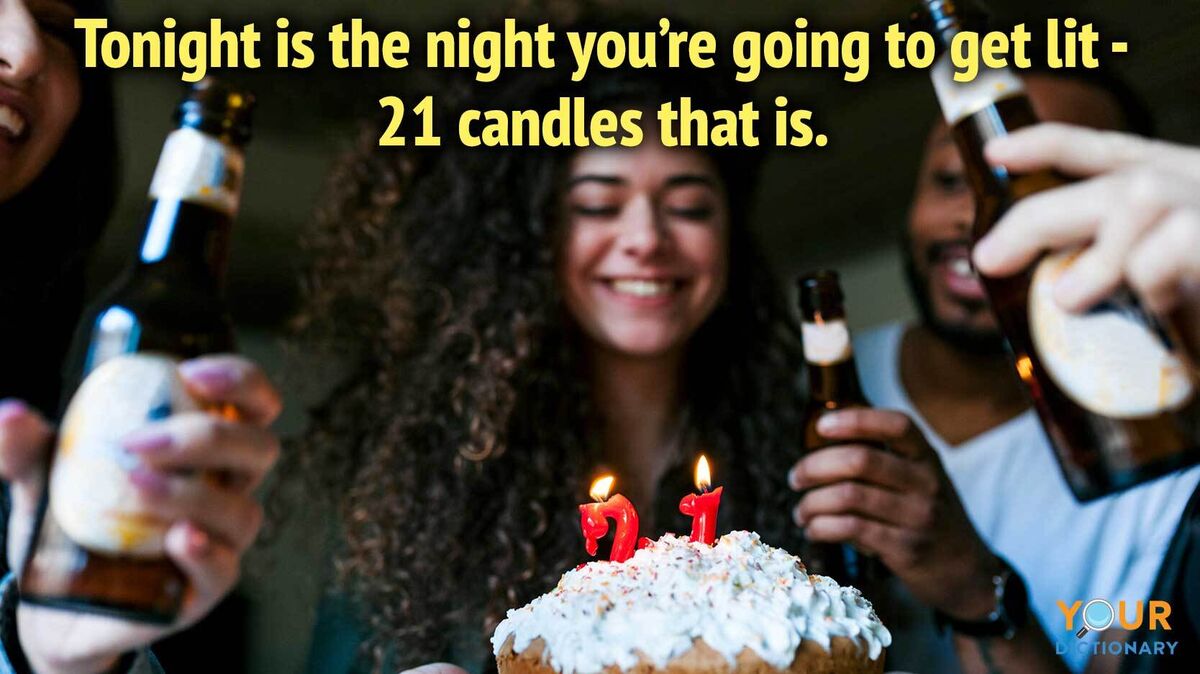 Do you need some funny quotes about turning 21 to write in a card? Maybe you need to write a speech or a toast for a 21st birthday party? Could you be planning a birthday celebration and need a funny quote for the invitation? Explore a list of turning 21 quotes and sayings to use for every occasion.
Original 21st Birthday Jokes and Sayings
While a lot of celebrities offer funny 21st birthday quotes, you might be looking for something a little more original. Dive into these unique, original turning 21 quotes to tickle your funny bone.
Congrats! You've reached the age where you can use your own ID.
Your 21st birthday is all the fun of your 18th but a lot more drinking.
Since you're 21, the fun is going to begin, followed by the headache.
Tonight is the night you're going to get lit — 21 candles, that is.
Happy 21st birthday! Remember, after today, you have to pay for your own drinks.
Tonight, we celebrate your first annual 21st birthday. May there be many more to come.
The time has come, my friend. It's time for you to buy ME a drink.
Your 21st birthday is all about fun, fun, fun! And then there's the day after your 21st birthday. Enjoy!
You're officially 21. It's the end of your youth. And it's too late to regret it. Happy Adulting!
You were born 21 years ago on this day. And you're halfway to 42. Isn't that a downer?
Famous Funny Quotes for Turning 21
The 21st birthday is a pivotal moment in your life. Check out some great quotes and funny lines for celebrating the occasion of someone's 21st birthday.
"You're finally 21... and legally able to do everything you've been doing since you were 16." - Unknown

"I think age is a very high price to pay for maturity." - Tom Stoppard

"When a man is tired of life on his 21st birthday it indicates that he is rather tired of something in himself." - F. Scott Fitzgerald

"When I was a boy of 14, my father was so ignorant I could hardly stand to have the old man around. But when I got to be 21, I was astonished at how much he had learned in seven years." - Mark Twain

"Youth is a disease from which we all recover." - Dorothy Fuldheim

"You are only young once, but you can stay immature indefinitely." - Ogden Nash

"At 16, you can drive. At 21, you can have a cold one. Do both at the same time and your present might not have a future." - Greg Tamblyn

"I will never be an old man. To me, old age is always 15 years older than I am." - Bernard M. Baruch

"Birthdays are good for you. Statistics show that the people who have the most live the longest." - Larry Lorenzoni

"Wisdom doesn't necessarily come with age. Sometimes age just shows up all by itself." - Tom Wilson

"Live as long as you may. The first twenty years are the longest half of your life." - Robert Southey

"The party is on my birthday, June 21 — my 21st on the 21st, which is Midsummer's Day, the longest day of the year and the longest night for a lot of people who are helping to organize it. My father very kindly suggested having a party, although he's probably regretting it now." - Prince William

"Just remember, once you're over the hill, you begin to pick up speed." - Arthur Schopenhauer
Words of Wisdom for a 21-Year-Old
When it comes to age 21, it's important to offer a few words of wisdom. However, those words don't need to be boring. Enjoy these funny words of wisdom for anyone's 21st birthday.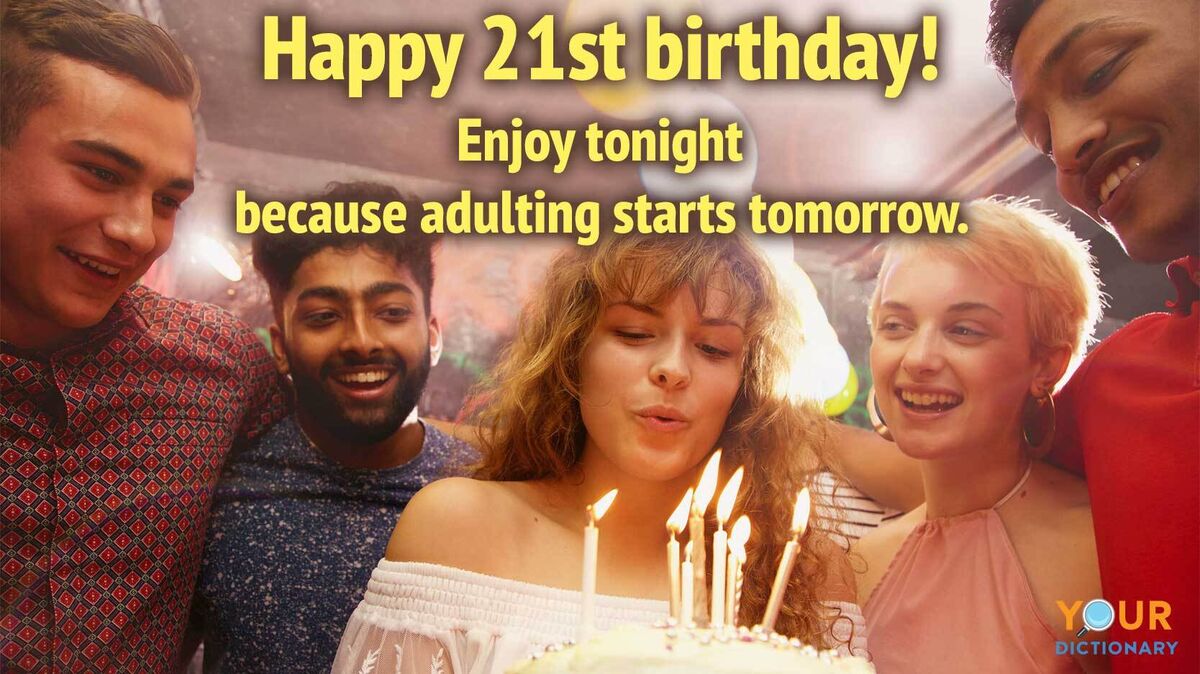 Now that you have reached the ripe old age of 21, you can legally do all those adult things they denied you at 18.

Happy 21st birthday! Enjoy tonight because adulting starts tomorrow.

For many, 21 is just a blur mixed with a lot of slurring.

The time has come; you've transitioned from a child into full adulthood. All I have to say is run back!

Being an adult is great, they said. Don't worry! I believed the lie, too — Happy 21st Birthday.

Once you reach the age of responsibility, you start to realize that your parents weren't so outrageously crazy. And you'll begin to question why you wanted to be an adult so bad.

That's right. You're 21! Remember to fill your night with fun because adulting has just begun!

21 might be fun today! Give it a few months. Happy Birthday!

Just remember that you waited your whole life for this moment! It's all downhill from here.

Happy 21st birthday! After this year, everyone is going to begin to ask why you're still in college! Enjoy!
Fun 21 Quotes to Add to Tumblr or Instagram
Are you looking for some funny short and sweet quotes you can add to your social media accounts? Well, you've come to the right place. Peruse these short, funny 21 quotes any 21-year-old can enjoy.
It's time to say cheers to these 21 years! Bye Felicia!

Twenty-first birthdays are built on poor decisions.

After today, I'm celebrating my birthday in dog years.

Today is not for whining, it's for wining!

21! The one night you don't get carded!

Leveling up my adulting game. 21 and having fun.

Finally 21! It only took me 3 years to realize my adulting game was weak.

Today is the day! You can finally "hit me with your best shot."

It's time to rhyme because 21 is for fun!

21 is so fun I think I'll repeat it again next year.
More Words to Wish a Happy Birthday
If you'd like to wish someone a happy 21st birthday but would prefer a take that's a bit more thoughtful and perhaps a bit less comical, check out some more birthday quotes. We've got some great 21st birthday sayings to consider too.