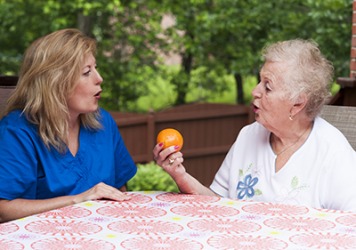 Margaret would slur words as a result of her stroke, so she practices with a speech therapist twice a week.
noun
The definition of a slur is a remark or action that can hurt someone's reputation.

An example of a slur is a man calling a young woman a slut in a crowded bar.
verb
Slur is defined as to speak unclearly, to speak quickly, or to not pronounce words distinctly.

An example of slur is a the way a very drunk person will talk.
---
slur
transitive verb
slurred

,

slur′ring
to pass over quickly and carelessly; make little of: often with over
to pronounce rapidly and indistinctly, as by combining or dropping sounds

Dial.

to stain, smirch, or sully
to blur or smear, as in printing
to disparage or discredit; cast aspersions on

Music

to sing or play (different and successive notes) by gliding from one to another without a break
to mark (notes) with a slur
Origin of slur
probably from Middle Dutch
sleuren
, to drag, move slowly, trail in mud: for Indo-European base see slug
the act or process of slurring
something slurred, as a pronunciation
a blot, stain, or smear
any remark or action that harms or is meant to harm someone's reputation; aspersion, reproach, stigma, etc.

Music

a curved line written above or below two or more successive notes of different pitch that are to be sounded without a noticeable break
a group of such notes
---
slur
transitive verb
slurred, slur·ring, slurs
To pronounce indistinctly.
To talk about disparagingly or insultingly.
To pass over lightly or carelessly; treat without due consideration.
Music

a. To glide over (a series of notes) smoothly without a break.

b. To mark with a slur.

Printing To blur or smear.
noun
A disparaging remark; an aspersion.
A slurred utterance or sound.
Music

a. A curved line connecting notes on a score to indicate that they are to be played or sung legato.

b. A passage played or sung in this manner.

Printing A smeared or blurred impression.
Origin of slur
Probably from
Middle English
sloor
mud
---
slur

Verb
(third-person singular simple present slurs, present participle slurring, simple past and past participle slurred)
To run together; to articulate poorly.

to slur syllables
He slurs his speech when he is drunk.

(music) To play legato or without separate articulation; to connect (notes) smoothly.

To soil; to sully; to contaminate; to disgrace.

To cover over; to disguise; to conceal; to pass over lightly or with little notice.
To cheat, as by sliding a die; to trick.
(printing, dated) To blur or double, as an impression from type; to mackle.
Origin
From Middle English slore. Compare Old Norse slóðra ("to drag oneself along"). Cognate with Middle Low German sluren ("to trail in mud"). Related to dialect Norwegian sløra ("to be careless, to scamp, dawdle"), Danish sløre ("to wobble, be loose") (especially for wheels).
---