blot
blot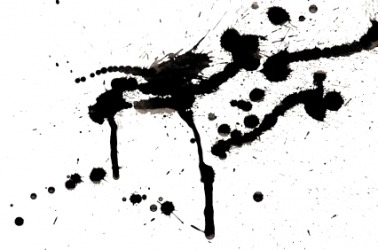 Ink blots.
noun
The definition of a blot is a spot or stain, whether physical or on a person's character.

An example of a blot is an ink stain on a shirt.
verb
Blot means to dry, soak up or remove.

An example of to blot is to wipe up tipped over milk with a paper towel.
---
blot
a spot or stain, esp. of ink
anything that spoils or mars, esp. by providing an unpleasant contrast: that shack is a blot on the landscape
a moral stain; disgrace
Origin of blot
Middle English ; from uncertain or unknown; perhaps
blot′ted

,

blot′ting
to make blots on; spot, stain, or blur
to stain (a reputation); disgrace
to erase or get rid of: memories blotted from one's mind
to dry by soaking up the wet liquid, as with blotting paper
to make blots
to become blotted
to be absorbent
blot out
to darken or hide entirely; obscure
to kill or destroy
Backgammon

an exposed piece, liable to capture

Archaic

a weak point; fault; failing
Origin of blot
probably ; from Middle Dutch
bloot
or Danish
blot
, naked, uncovered
---
blot
noun
A spot or a stain caused by a discoloring substance: a blot of paint.
An association of disgrace with one's character or reputation. See Synonyms at stain.
The Northern, Southern, or Western blot analyses.
verb
blot·ted
,
blot·ting
,
blots
verb
, transitive
To soak up or dry with absorbent material. Often used with up: blotted the spill with a napkin; used a rag to blot up the paint.

a. To make obscure or invisible; hide. Often used with out: clouds blotting out the moon.

b. To render invisible or unreadable by marking; obliterate. Often used with out: blotted out the names with a pen.

c. To remove or block from personal memory or public remembrance. Often used with out: "His death in the hour of victory blotted out his failings and left a heroic memory" (N.A.M. Rodger).

To spot or stain, as with a discoloring substance: Grass stains blotted the knees of his pants.
To bring moral disgrace to: an incident that blotted the senator's reputation.
verb
, intransitive
To spill or spread in a spot or stain.
To become blotted, soaked up, or absorbed.
Origin of blot
Middle English.
noun
Games An exposed piece in backgammon.
Archaic A weak point.
Origin of blot
Possibly from Low German
blat
,
naked, unprotected
.
---
blot
Verb
(third-person singular simple present blots, present participle blotting, simple past and past participle blotted)
to cause a blot (on something) by spilling a coloured substance.
To dry (writing, etc.) with blotting paper.
To spot, stain, or bespatter, as with ink.
To impair; to damage; to mar; to soil.
To stain with infamy; to disgrace.
To obliterate, as writing with ink; to cancel; to efface; generally with out.

to blot out a word or a sentence

To obscure; to eclipse; to shadow.
Origin
Originally "blemish," perhaps from Old Norse blettr, or from Old French bloche ("clod of earth")
---