shutter

shut·ter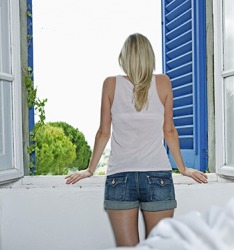 She opened the shutters to let some fresh air into the room.
noun
The definition of a shutter is a person or thing that covers or closes an opening or window.

An example of a shutter is a person who opens and closes the door at a theater.
An example of a shutter is a device on the lens of the camera that opens and closes to control the amount of light entering the camera.
An example of a shutter is a wooden panel that can be opened and closed to cover a window.
---
shutter
a person or thing that shuts

a movable screen or cover, typically one of a pair, for a window: shutters are usually hinged and often fitted with louvers
an ornamental detail, typically one of a pair, resembling this but fixed in place beside a window

anything used to cover an opening, as a slide or door on a lantern

Photog.

a device that controls the duration of an exposure by opening and closing, allowing light to reach the film or plate for a specified amount of time
to close or furnish with or as with a shutter or shutters
---
shutter
noun
One that shuts, as:

a. A hinged cover or screen for a window, usually fitted with louvers.

b. A mechanical device of a camera that controls the duration of a photographic exposure, as by opening and closing to allow light coming through the lens to expose a plate or film.

shutters Music The movable louvers on a pipe organ, controlled by pedals, that open and close the swell box.
transitive verb
shut·tered, shut·ter·ing, shut·ters
To furnish or close with shutters: locked the doors and shuttered the windows.
To cause to cease operations; close down: shuttered the store for the holiday.
shutter
---
shutter

Noun
(plural shutters)
One who shuts or closes something.
(usually in the plural) Protective panels, usually wooden, placed over windows to block out the light.
(photography) The part of a camera that opens for a controlled period of time to let light in during taking a picture.
Verb
(third-person singular simple present shutters, present participle shuttering, simple past and past participle shuttered)
To close shutters covering.

Shutter the windows, there's a storm coming!

To close up (a building or an operation) for a prolonged period of inoccupancy.

It took all day to shutter the cabin now that the season has ended.
The US is seeking to get Iran to shutter its nuclear weapons program.
---
shutter - Computer Definition
(1) An opaque window that is moved in one direction to let light in and in another to close off the light. In fixed-lens cameras, one shutter often suffices for aperture and speed. In most single lens reflex (SLR) cameras, the camera has a built-in shutter that pops up to let light in and drops down after a certain amount of time, while each lens contains its own diaphragm shutter that acts like an iris to let light pass (aperture setting). See shutter speed, aperture and shutter lag.
(2) To close down an operation, project or venture.
---