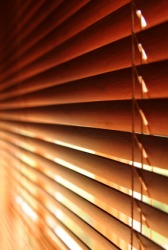 Sunlight coming through jalousies.
noun
The definition of a jalousie is a window or door covering with louvers or slats which can be arranged to allow in different amounts of light or air.

An example of a jalousie is a set of blinds.
---
jalousie
a window, shade, or door formed of overlapping, horizontal slats, or louvers, of wood, metal, or glass, that can be adjusted to regulate the air or light coming between them
Origin of jalousie
French from Italian
gelosia,
literally , jealousy: probably so named from permitting one to see without being seen
---
jalousie
noun
A blind or shutter having adjustable horizontal slats for regulating the passage of air and light.
Origin of jalousie
French
from
jalousie
jealousy
from
Old French
gelosie
from
gelos
jealous
; see
jealous
.
jalousie
---
jalousie

Noun
(plural jalousies)
(naval architecture) A component in a ventilation system.
Upward sloping window slats which form a blind or shutter, allowing light and air in but excluding rain and direct sun.
---