jam

jam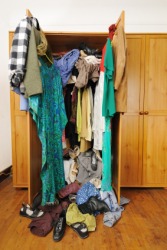 Too many clothes are jammed into this wardrobe.
noun
Jam is defined as being in an intense or difficult situation, or is a preserve made from whole fruit and sugar.

An example of a jam is a lot of traffic.
An example of jam is what goes with peanut butter on a sandwich.
verb
To jam is defined as to shove in so something gets stuck, to squeeze into a tight space, or is a causal term for playing music.

An example of to jam is for keys on the keyboard to get stuck.
An example of to jam is to play the guitar with friends.
---
jam
transitive verb
jammed

,

jam′ming
to squeeze or wedge into or through a confined space

to bruise or crush
to force (a thumb, toe, etc.) back against its joint so as to cause impaction

to push, shove, or crowd
to pack full or tight
to fill or block (a passageway, river, etc.) by crowding or squeezing in

to wedge or make stick to prevent movement
to put out of order by such jamming: to jam a rifle

to make (radio broadcasts, radar signals, etc.) unintelligible, as by sending out other signals on the same wavelength

Basketball, Slang

stuff (transitive verb)
Origin of jam
from uncertain or unknown; perhaps
to become wedged or stuck fast
to become unworkable through such jamming of parts

to push against one another in a confined space

Informal

to improvise freely, esp. in a jam session
a jamming or being jammed
a group of persons or things so close together as to jam a passageway, etc.: a traffic jam

Informal

a difficult situation; predicament

Informal

jam session

Basketball, Slang

stuff (noun)
a food made by boiling fruit with sugar to a thick mixture
Origin of jam
from uncertain or unknown; perhaps jam
Jam
---
jam
verb
jammed, jam·ming, jams
verb
transitive
To drive or wedge forcibly into a tight position: jammed the cork in the bottle.
To activate or apply (a brake) suddenly. Often used with on: jammed the brakes on.

a. To cause to become unworkable because a part is stuck: The wrinkled paper jammed the copying machine.

b. To cause (moving parts, for example) to lock into an unworkable position: jammed the typewriter keys.

a. To pack (items, for example) to excess; cram: jammed my clothes into the suitcase.

b. To fill (a container or space) to overflowing: I jammed the suitcase with clothes. Fans jammed the hallway after the concert.

To block, congest, or clog: a drain that was jammed by debris.
To crush or bruise: jam a finger.
Electronics To interfere with or prevent the clear reception of (broadcast signals) by electronic means.
Baseball To throw an inside pitch to (a batter), especially to prevent the batter from hitting the ball with the thicker part of the bat.
verb
intransitive
To become wedged or stuck: The coin jammed in the slot.
To become locked or stuck in an unworkable position: The computer keyboard jammed.
To force one's way into or through a limited space: We all jammed into the elevator.
Music To participate in a jam session.
Basketball To make a dunk shot.
noun
The act of jamming or the condition of being jammed.
A crush or congestion of people or things in a limited space: a traffic jam.
A trying situation. See Synonyms at predicament.
See jam session.
Origin of jam
Origin unknown
Related Forms:
noun
A preserve made from whole fruit boiled to a pulp with sugar.
Origin of jam
Possibly from
jam
1
Related Forms:
---
jam

Noun
(countable and uncountable, plural jams)
A sweet mixture of fruit boiled with sugar and allowed to congeal. Often spread on bread or toast or used in jam tarts.
(countable) A difficult situation.

I'm in a jam right now. Can you help me out?

(countable) Blockage, congestion.

A traffic jam caused us to miss the game's first period.
a jam of logs in a river

(countable, popular music) An informal, impromptu performance or rehearsal.
(countable, baseball) A difficult situation for a pitcher or defending team.

He's in a jam now, having walked the bases loaded with the cleanup hitter coming to bat.

(countable, basketball) A forceful dunk.
(countable, roller derby) A play during which points can be scored.

Toughie scored four points in that jam.

(countable) Any of several rock-climbing maneuvers requiring wedging of an extremity into a tight space.

I used a whole series of fist and foot jams in that crack.

(UK) luck.

He's got more jam than Waitrose.

(mining) Alternative form of jamb.
Verb
(third-person singular simple present jams, present participle jamming, simple past and past participle jammed)
To get something stuck in a confined space.

My foot got jammed in a gap between the rocks.

To brusquely force something into a space; cram, squeeze.

They temporarily stopped the gas tank leak by jamming a piece of taffy into the hole.
The rush-hour train was jammed with commuters.

To cause congestion or blockage. Often used with "up"

A single accident can jam the roads for hours.

(baseball) To throw a pitch at or near the batter's hands.

Jones was jammed by the pitch.

(music) To play music (especially improvisation as a group, or an informal unrehearsed session).
To injure a finger or toe by sudden compression of the digit's tip.

When he tripped on the step he jammed his toe.

(roller derby) To attempt to score points.

Toughie jammed four times in the second period.

(nautical) To bring (a vessel) so close to the wind that half her upper sails are laid aback.
See also:
jamb
Usage notes
The legal usage is the customary abbreviation of this term as used in case citations. See, e.g., The Bluebook: A Uniform System of Citation, Nineteenth Edition (2010), "Geographical Terms: Foreign countries and regions", Table T10.3, p. 438-443.
See also:
jam
---
jam - Computer Definition
(JYACC Application Manager) An application development system for client/server environments from Prolifics, New York (www.jyacc.com), a JYACC company. It supports Windows, Mac and Motif clients and most Unix servers and VMS. It supports over 20 databases and includes its own database (JDB) for prototyping. JAM/CASE allows CASE information to be moved into JAM. JAM/TPi integrates JAM with the Tuxedo and Encina TP monitors.
---