noun
The definition of an elbow is the joint that bends between the top and bottom parts of the arm, or anything bend in a 45° or 90° angle.

An example of an elbow is the part of the arm that bends when swinging a tennis racket.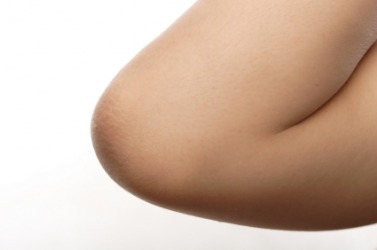 The human elbow.
---
elbow
noun
the joint between the upper and lower arm; esp., the outer part of the angle made by a bent arm
the joint corresponding to this in the forelimb of quadrupeds

the part of a sleeve covering the elbow
anything bent like an elbow, as a fitting for joining plumbing pipes at a 45° or 90° angle
Origin of elbow
Middle English
elbowe
; from Old English
elboga
; from Proto-Germanic an unverified form
alino-boga
(from source German
ellenbogen
): see ell and amp; bow
transitive verb
to shove or jostle with or as with elbows
to push (one's way) with the elbows or rudely
intransitive verb
to make one's way by shoving or jostling
to form an angle
at someone's elbow
very close to someone; easy to reach
up to the elbows
Informal
deeply engaged (
in
work, etc.)
---
elbow
noun
a. The joint or bend of the arm between the forearm and the upper arm.

b. The bony outer projection of this joint.

A joint, as of a bird or quadruped, corresponding to the human elbow.
Something having a bend or angle similar to an elbow, especially:

a. A length of pipe with a sharp bend in it.

b. A sharp bend in a river or road.
verb
el·bowed
,
el·bow·ing
,
el·bows
verb
, transitive
To push, jostle, or shove with the elbow: elbowed me in the ribs to get me to stop laughing.
To open up (a means of passage, for example) by or as if by use of the elbow: elbowed her way through the crowd.
verb
, intransitive
To make one's way by pushing with the elbow.
To turn at an angle; bend: The lane elbows to the left.
Origin of elbow
Middle English
elbowe
, from Old English
elnboga
; see
el-
in Indo-European roots.
elbow
90° angle elbow with female threads at both ends
---
elbow
---