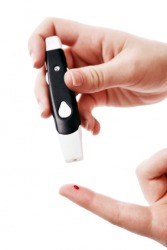 A diabetic jabs her finger to check her blood sugar.
Licensed from iStockPhoto
---
transitive verb
,
intransitive verb
jabbed, jabbing
to poke or thrust, as with a sharp instrument
to punch with short, straight blows
Origin: var. of job
noun
a quick thrust, blow, or punch
Webster's New World College Dictionary
Copyright © 2010 by Wiley Publishing, Inc., Cleveland, Ohio.
Used by arrangement with John Wiley & Sons, Inc.
---
verb
jabbed
jabbed
,
jab·bing
,
jabs
verb
, transitive
To poke or thrust abruptly: jabbed a knife into the log.
To stab or pierce: jabbed the steak with a fork.
To punch (someone) with short blows.
verb
, intransitive
To make an abrupt poking or thrusting motion: jabbed at the pickles with his fork.
To deliver a quick punch.
noun
A quick stab or blow.
Sports A short straight punch in boxing.
Origin: Variant of job2.
The American Heritage® Dictionary of the English Language
, 4th edition Copyright © 2010 by Houghton Mifflin Harcourt Publishing Company. Published by Houghton Mifflin Harcourt Publishing Company. All rights reserved.