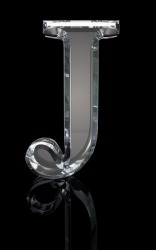 The letter J.
noun
J is the tenth letter in the English alphabet.

An example of j is the first letter in the word "Jerusalem."
---
j
or J
noun
pl.
the tenth letter of the English alphabet: formerly a variant of I, i, in the 17th cent. it became established as a consonant only, as in Julius, originally spelled Iulius
any of the speech sounds that this letter represents, as, in English, the j of joy
a type or impression for j or J
the tenth in a sequence or group
an object shaped like
of j or J
tenth in a sequence or group
shaped like
Physics
the imaginary number
J
January

Physics

joule
Judge
July
June
Justice
---
j
or J
noun
pl.
j's,
or
J's
also
js
or
Js
The tenth letter of the modern English alphabet.
Any of the speech sounds represented by the letter j.
The tenth in a series.
Something shaped like the letter J.
J The hypothetical source of those portions of the Pentateuch in which God is referred to with the Tetragrammaton rather than as Elohim.
Origin of j
Sense 5, from
J(ehovah)
fruit crate label, Blue Jack melons
Colorful labels such as this one were used on shipping crates from the 1880s to the 1950s.
J
abbreviation
Games jack
or j joule
J.
abbreviation
Japanese
judge
justice
---
j

---
j - Computer Definition

---
A high-level mathematical programming language developed by Kenneth Iverson, the author of APL. J is the successor to APL and runs on a variety of platforms, including DOS, Windows, OS/2, Unix and the Macintosh. The Windows version can be used as a calculating engine for Visual Basic, in which Visual Basic is used to write the file handling and user interface portions, and J is used to program the math.
J#
(J sharp) A programming language from Microsoft based on Java that includes most of the features of Visual J++. J# compiles into the Microsoft Intermediate Language (MSIL) for the .NET platform. J# supports COM objects and the J/Direct interface to Windows. Why the Number Sign? Because it is similar to the sharp music notation symbol, the number sign (#) is used. See .NET Framework, C# and F#.
J++
---
j. - Legal Definition
---