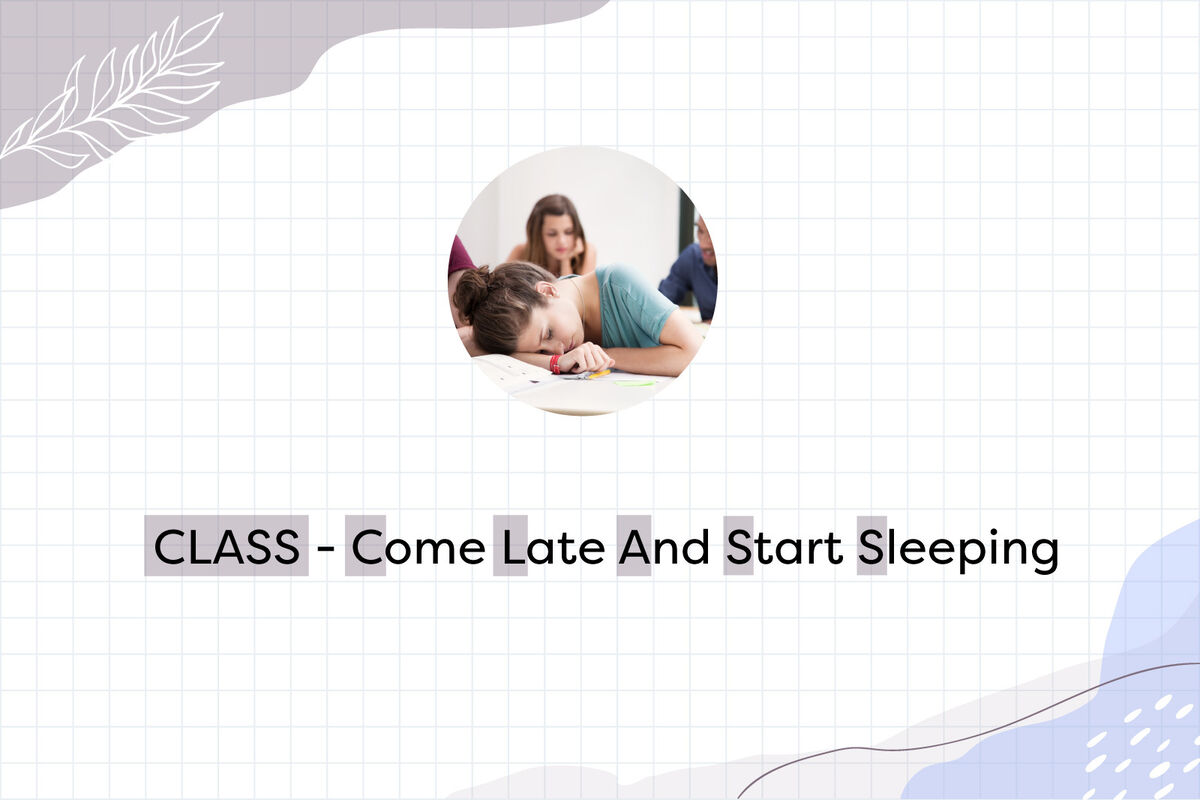 Acronyms and abbreviations help us remember complicated phrases, but they can be also good for a laugh — especially when you take a real word and make a new acronym out of it. We'll get you started with lists of funny acronyms and initialisms that describe your car, your medical condition or even yourself.
Funny Acronyms About Cars
Everyone has their favorite car, and everyone has that car they'd never own again. For the latter, consider these acronyms when convincing others to join your side.
BUICK - Big Ugly Import Car Killer
CHEVY - Can Hear Every Valve Yell (or Cannot Have Expensive Vehicle Yet)
DODGE - Drains Or Drops Grease Everywhere (or Dead On Day Guarantee Expires)
FORD - Fix Or Repair Daily (or Found On Road Dead)
HOLDEN - Hope Our Luck Doesn't End Now
HONDA - Hang On, Not Done Accelerating
JEEP - Just Expect Every Problem
MAZDA - Most Always Zipping Dangerously Along (or My! Another Zany Detroit Assassin!)
PORSCHE - Proof Of Rich Spoiled Children Having Everything
TOYOTA - Too Often Yankees Overprice This Auto
VOLVO - Very Odd-Looking Vehicular Object
Funny Acronyms About School
You may have learned your ABCs in school — but did you ever use them like this?
BOOK - Brainy Object Of Knowledge
CLASS - Come Late And Start Sleeping
DESK - Doubtful Effort School Keeps
MATH - Mental Abuse To Humans
PENCIL - Perfect Effort, Never Caring If Learning
SCHOOL - Sucks Children's Happiness Out Of Life
STUDENT - Someone Told Us "Don't Ever Notice Teachers"
Funny Acronyms About People
Need a funny way to insult someone (or make a jab about yourself)? Try out:
BADD - Bikers Against Dumb Drivers
BOSS - Barking Orders So Snidely
DIET - Do I Eat Today?
FAIL - Forget About It, Loser
HATERS - Having Anger Towards Everyone Reaching Success
HUSBAND - Heartthrob Usefully Serving Bond And Never Deserting
LOVE - Loss Of Valuable Energy
MAID - Mother Actually In Disguise
NAKED - No Attire; Keep Eyes Averted
STRESS - Stuff To Remember Every Single Second
WIFE - Worries Invited For Ever (or Wise Investment Flourishing Eternally)
Funny Acronyms About Places
Keep these silly acronyms in mind when planning your next worldwide adventure.
FOREST - Finding Outdoors Rather Eerie, Scary and Tiresome
BEACH - Best Escape Anyone Can Have
PRAIRIE - Pretty Rural Area; It's Radiant, It's Empty
HOME - House Of My Errands
WORK - Whiny, Overwhelming Recreation-Killer 
OFFICE - On Fourteenth Floor Is Corporate Evil
PARK - Peaceful (Amid Rowdy Kids)
MALL - Money Accepted, Long Lines
Check out a few funny medical acronyms (and initialisms) that you may find scribbled on hospital notes. 
ABITHAD - Another Blithering Idiot Thinks He's A Doctor
COPS - Chronic Old Person's Disease
FABIAN - Felt Awful, But I'm All Right Now
GOMER - Get Out of My Emergency Room
HIBGIA - Had It Before, Got It Again
SALT - Same As Last Time
TEETH - Tried Everything Else, Try Homeopathy
TEON - Two Eyes One Nose
TMB - Too Many Birthdays
TTGA - Told To Go Away
For a twist, here are some acronyms for the word acronym itself:
Alphabetical Code for Remembering Odd Names You Make up
A Coded Rendition Of Names Yielding Meaning
A Contrived Reduction Of Nouns, Yielding Mnemonics
Another Cryptic Rendition Of Nomenclature You Memorize
A Clever Re-Organization Nudges Your Memory
For more great examples of wordplay, check out: