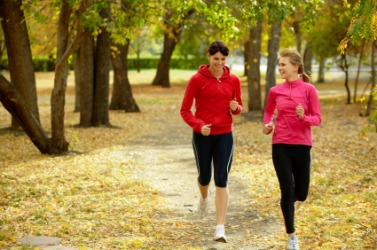 Two people jogging.
---
jog definition by Webster's New World
transitive verb
jogged, jogging
to give a little shake, shove, or jerk to
to nudge

to shake up or revive (a person's memory)
to cause to jog
Origin: Middle English joggen, to spur (a horse), variant, variety of jaggen, to jag
intransitive verb
to move along at a slow, steady, jolting pace or trot; specif., to engage in jogging as a form of exercise
to go (on or along) in a steady, slow, heavy manner
noun
a little shake, shove, or nudge
a slow, steady, jolting motion or trot
an act or instance of jogging
noun
a projecting or notched part, esp. one at right angles, in a surface or line
a sharp, temporary change of direction, as in a road or one's course
Origin: variant, variety of jag
Webster's New World College Dictionary Copyright © 2010 by Wiley Publishing, Inc., Cleveland, Ohio. Used by arrangement with John Wiley & Sons, Inc.
---
jog definition by American Heritage Dictionary
verb
jogged
jogged
,
jog·ging
,
jogs
verb
, transitive
To move by shoving, bumping, or jerking; jar: a rough wagon ride that jogged the passengers.
To give a push or shake to; nudge: jogged her dozing companion with her elbow.
To rouse or stimulate as if by nudging: an old photo that might jog your memory.
To cause (a horse) to move at a leisurely pace.
verb
, intransitive
To move with a jolting rhythm: The pack jogged against his back as he ran.

a. To run or ride at a steady slow trot: jogged out to their positions on the playing field.

b. Sports To run in such a way for sport or exercise.

a. To go or travel at a slow or leisurely pace: The old car jogged along until it reached the hill.

b. To proceed in a leisurely manner: "while his life was thus jogging easily along" (Duff Cooper).
noun
A slight push or shake; a nudge.
A jogging movement or rhythm.
A slow steady trot.
Origin: Perhaps alteration of Middle English shoggen, to shake, move with a jerk, perhaps alteration of shokken, to move rapidly, from Middle Low German schocken, to shake.
Related Forms:
noun
A protruding or receding part in a surface or line.
An abrupt change in direction: a jog in the road.
intransitive verb
jogged
jogged
,
jog·ging
,
jogs
To turn sharply; veer: Here the boundary jogs south.
Origin: Variant of jag1.