pierce

pierce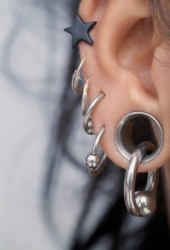 Multiple piercings in an ear.
verb
Pierce is defined as to make a hole in, to stab, or to go through.

An example of pierce is for a shrill sound to be heard through the noise of the crowd.
---
pierce
transitive verb
pierced

,

pierc′ing
to pass into or through as a pointed instrument does; penetrate; stab
to affect sharply the senses or feelings of
to make a hole in or through; perforate; bore; specif., to make a hole in an earlobe, lip, nostril, or other part of the body for the purpose of inserting a ring, stud, or other ornament
to make (a hole), as by boring or stabbing
to force a way into or through; break through
to sound sharply through: a shriek pierced the air
to penetrate with the sight or mind: to pierce a mystery
Origin of pierce
Middle English
percen
from Old French
percer
from Vulgar Latin an unverified form
pertusiare
from Classical Latin
pertusus,
past participle of
pertundere,
to thrust through from
per,
through +
tundere,
to strike from Indo-European base an unverified form
(s)teu-,
to push from source stock
to penetrate (to, into, or through something)
Pierce
1804-69; 14th president of the U.S. (1853-57)
---
pierce
verb
pierced, pierc·ing, pierc·es
verb
transitive
To cut or pass through with or as if with a sharp instrument; stab or penetrate.
To make a hole or opening in; perforate.
To make a way through: The path pierced the wilderness.
To sound sharply through: His shout pierced the din.
To succeed in penetrating (something) with the eyes or the intellect: Large glowing yellow eyes pierced the darkness.
verb
intransitive
To penetrate into or through something: The rocket pierced through space.
Origin of pierce
Middle English
percen
from
Old French
percer
probably from
Vulgar Latin
pertūsiāre
from
Latin
pertūsus
past participle of
pertundere
to bore through
per-
per-
tundere
to beat
Related Forms:
---
pierce

---