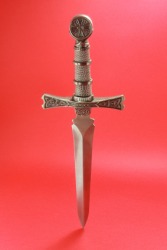 An ornamental dagger.
noun
The definition of a dagger is a short weapon with a sharp point that is used for stabbing, or something that hurts someone like a weapon.

An example of a dagger is a short metal sword used during the middle ages.
An example of a dagger is a mean insult.
---
dagger
a weapon with a short, pointed blade, used for stabbing
a symbol (†) used as a reference mark or to indicate that a person listed has died
Origin of dagger
Middle English
daggere
from Old French
dague
from Old Provençal
daga
to stab with a dagger
to mark with a dagger
stare daggers at
to look at with anger or hatred
---
dagger
noun
A short pointed weapon with sharp edges.
Something that agonizes, torments, or wounds.
Printing

b. A double dagger.
Origin of dagger
Middle English
daggere
alteration of
Old French
dague
from
Old Provençal
dague
or
Old Italian
daga
both perhaps from
Vulgar Latin
dāca (ēnsis)
Dacian (knife)
from feminine of
Latin
Dācus
---
dagger

Verb
(third-person singular simple present daggers, present participle daggering, simple past and past participle daggered)
To pierce with a dagger; to stab.
Origin
Probably from Old French dague (1229), related to Occitan, Italian, Spanish daga, German Degen, Middle Low German dagge ("knife's point"), Old Norse daggardr, Welsh dager, dagr, Breton dac, Albanian thikë ("a knife, dagger"), thek ("to stab, to pierce with a sharp object").
In English attested from the 1380s. The ultimate origin of the word is unclear. Grimm suspects Celtic origin. Others have suggested derivation from an unattested Vulgar Latin *daca "Dacian [knife]", from the Latin adjective dācus . Chastelain (Dictionaire etymologique, 1750) thought that French dague was a derivation from German dagge, dagen, although not attested until a much later date).
The knightly dagger evolves from the 12th century. Guillaume le Breton (died 1226) uses daca in his Philippide. Other Middle Latin forms include daga, dagga, dagha, dagger, daggerius, daggerium, dagarium, dagarius, diga ; the forms with -r- are late 14th century adoptions of the English word). OED points out that there is also an English verb dag ("to stab") from which this could be a derivation, but the verb is attested only from about 1400.
Relation to Old Armenian դակու (daku, "adze, axe") has also been suggested .
Noun
(plural Daggers)
(soccer) A player, supporter or other person connected with w:Dagenham & Redbridge Football Club.
---