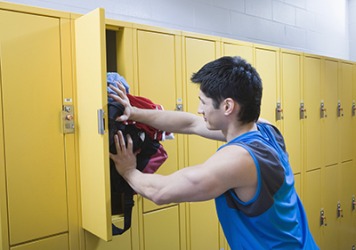 Ross had to shove his clothes into his locker so that he could close the door.
verb
Shove is defined as to quickly or roughly push.

An example of shove is using your hands to push someone out of your way.
---
shove
transitive verb
intransitive verb
shoved

,

shov′ing
to push or thrust, as along a surface
to push roughly or hastily
Origin of shove
Middle English
shoven
from Old English
scufan
, akin to Old Norse
skufa
, German
schieben
from Indo-European base an unverified form
skeubh-
, to throw, shove from source scoff
the act or an instance of shoving; a push or thrust
shove off
to push a boat away from shore, a dock, etc.

Informal

to start off; leave
---
shove
verb
shoved, shov·ing, shoves
verb
transitive
To push quickly, forcefully, or roughly: shoved the chair against the wall. See Synonyms at push.
To put (something) roughly in a place: shoved the keys into his pocket.
verb
intransitive
To push someone or something with force.
To move forward roughly, often by shoving someone: shoved past the security guard into his seat.
noun
The act of shoving; a push.
Phrasal Verbs:
shove off
To push (a boat) away from shore in leaving.
Informal
To leave.
Origin of shove
Middle English
shoven
from
Old English
scūfan
Related Forms:
---
shove

Verb
(third-person singular simple present shoves, present participle shoving, simple past and past participle shoved)
To move off or along by an act of pushing, as with an oar or pole used in a boat; sometimes with off.
(slang) To pass (counterfeit money).
Origin
From Middle English shoven, schouven, from Old English scÅ«fan, from Proto-Germanic *skeubanÄ… (compare West Frisian skowe, Low German schuven, Dutch schuiven, German schieben, Danish skubbe), from Proto-Indo-European *skeubÊ°- (compare Lithuanian skùbti "˜to hurry', Polish skubać "˜to pluck', Albanian humb "˜to lose').
---