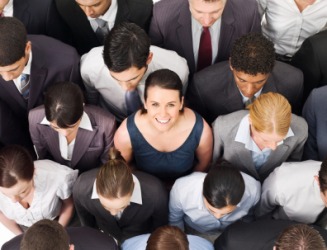 A lot of people crammed together.
noun
The definition of a cram is a quick study for an exam that is very soon.

An example of a cram is a 30 minute study session in the hour before a test.
verb
To cram is defined as to force something into a space that is too small or to study quickly for an exam that is very soon.

An example of to cram is to fit 50 people in a room made for 35.
An example of to cram is to start studying for a test the night before and stay up all night doing so.
---
cram
transitive verb
crammed

,

cram′ming
to fill (a space) beyond normal capacity by pressing or squeezing; pack full or too full
to stuff; force: to cram papers into a drawer
to feed to excess; stuff with food
to prepare (a student) or review (a subject) for an examination in a hurried, intensive way
Origin of cram
Middle English
crammen
from Old English
crammian,
to squeeze in, stuff; akin to Middle High German
krammen,
grip with claws from Indo-European an unverified form
grem-,
to press, compress (from source Classical Latin
gremium
, lap, bosom) from base an unverified form
ger-,
to hold, seize
to eat too much or too quickly
to study or review a subject in a hurried, intensive way, as in preparation for an examination
a crowded condition; crush
the act of cramming for an examination
Cram
1863-1942; U.S. architect & writer
---
cram
verb
crammed, cram·ming, crams
verb
transitive
To force, press, or squeeze (something) into an insufficient or barely sufficient space; stuff.

a. To feed a large amount of food to (an animal).

b. To fill (oneself or one's stomach, for example) with food.
verb
intransitive
To move into and fully occupy a space: The students crammed into the tiny classroom.
To study hastily for an impending examination: was up all night cramming for the history midterm.
noun
Hasty study for an imminent examination.
Origin of cram
Middle English
crammen
from
Old English
crammian
; see
ger-
in Indo-European roots.
Related Forms:
---
cram

Noun
(plural crams)
The act of cramming.
Information hastily memorized; as, a cram from an examination.
A warp having more than two threads passing through each dent or split of the reed.
Verb
(third-person singular simple present crams, present participle cramming, simple past and past participle crammed)
---
cram - Computer Definition
(1) (Chalcogenide RAM) See phase change memory.
(2) (Card Random Access Memory) An early magnetic card mass storage device from NCR that was made available on its 315 computer systems in 1962. It offered reasonably reliable random access storage at a time when magnetic tapes with sequential access were the primary storage medium. A Mechanical Wonder CRAM used a removable cartridge housing a deck of 3x14" cards with a magnetic recording surface. There were initially 256, and later 512, cards in the deck, providing 5.5MB and 11MB of storage. With a roomful of 16 units connected to the computer, the total storage capacity was 176 megabytes, a rather large amount of random access capacity for that era. With air blowing over them to keep them apart, the notched cards were suspended from eight rods that were selectively moved to release a specific card. The card was dropped and wrapped around a rotating drum using air pressure. After reading or writing, it was returned to the cartridge. Every once in a while, two cards dropped at the same time, causing a loud halt to the operation. See RACE and Data Cell.
---