wad

wad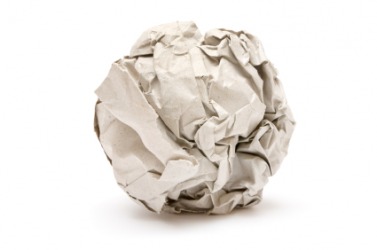 A wad of paper.
noun
The definition of a wad is a handful or a clump of something.

An example of a wad is a lump of gum under a desk.
verb
Wad is defined as to roll up or form into a lump.

An example of wad is to form a sheet of paper into a ball.
---
wad
a small, soft mass or ball, as a handful of cotton, crumpled paper, etc.
a lump or small, compact mass (of something): a wad of chewing tobacco
a mass of soft or fibrous material used for padding, packing, stuffing, etc.
a plug of hemp, tow, paper, etc. stuffed against a charge to keep it firmly in the breech of a muzzleloading gun or in a cartridge

Informal

a roll of paper money

Slang

a large amount, esp. of money
Origin of wad
Medieval Latin
wadda
, wadding from uncertain or unknown; perhaps
transitive verb
wad′ded

,

wad′ding
to compress into a wad
to roll up (paper, etc.) into a wad

to plug with a wad
to force or stuff: to wad oakum into a crack

to line or pad with or as with wadding
to hold (a charge) in place by a wad
---
wad
noun
A small mass of soft material, often folded or rolled, used for padding, stuffing, or packing.
A compressed ball, roll, or lump, as of tobacco or chewing gum.

a. A plug, as of cloth or paper, used to retain a powder charge in a muzzleloading gun or cannon.

b. A disk, as of felt or paper, used to keep the powder and shot in place in a shotgun cartridge.

Informal A large amount: a wad of troubles.
Informal

a. A sizable roll of paper money.

b. A considerable amount of money.

Vulgar Slang An ejaculation of semen.
transitive verb
wad·ded, wad·ding, wads
To compress into a wad: wad a candy wrapper.
To pad, pack, line, or plug with wadding: wad a keyhole.

a. To hold (shot or powder) in place with a wad.

b. To insert a wad into (a firearm).
Origin of wad
Origin unknown
---
wad

---