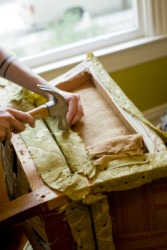 A person upholsters a chair.
verb
Upholster is defined as to put covering material on furniture.

An example of upholster is to put new fabric on a chair.
---
upholster
⌂
to fit out (furniture, etc.) with covering material, padding, springs, etc.
Origin of upholster
back-formation ; from upholsterer
---
upholster
transitive verb
up·hol·stered
,
up·hol·ster·ing
,
up·hol·sters
To supply (furniture) with stuffing, springs, cushions, and covering fabric.
Origin of upholster
Back-formation from
upholsterer
.
---
upholster
Verb
(third-person singular simple present upholsters, present participle upholstering, simple past and past participle upholstered)
Origin
Back-formation from upholsterer ("tradesman who finishes furniture"), from Middle English upholdester, from upholder ("dealer in small goods"), from upholden ("to repair, uphold"); see also uphold.
---