upholsterer
up·hol·ster·er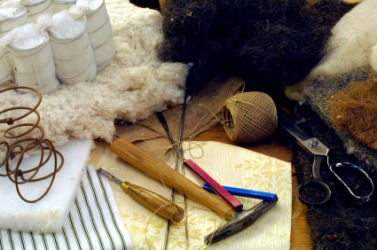 The tools of an upholsterer.
noun
The definition of an upholsterer is someone who recovers furniture.

An example of an upholsterer is the person to whom you take your old couch to have it covered with a new fabric.
---
upholsterer
a person whose business is upholstering furniture
Origin of upholsterer
altered from Middle English
upholdster,
altered from
upholder,
dealer in small or secondhand wares from
upholden,
to repair ( from
up-,
up- +
holden,
to keep, hold): see -ster
---
upholsterer
noun
One that upholsters furniture.
Origin of upholsterer
From
obsolete
upholster
from
Middle English
upholdester
upholden
to repair
(
up
up
; see
up
. ) (
holden
to hold
; see
hold
1
. )
-ster
-ster
---
upholsterer

---