verb
The definition of chew means to use teeth to bite, cut through and grind into smaller pieces, or is slang meaning to reprimand someone.

An example of chew is using your teeth to turn large pieces of lettuce into smaller, easier to swallow pieces.
To tell someone off is an example of how to chew someone out.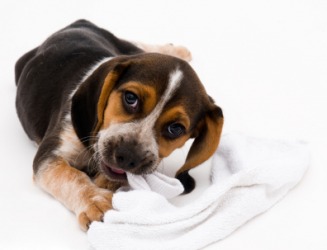 A puppy chewing on a sock.
---
chew definition by Webster's New World
transitive verb
to bite and grind or crush with the teeth; masticate
☆

Slang

to rebuke severely; reprimand: usually with out
Origin: Middle English chewen ; from Old English ceowan, to bite, chew ; from Indo-European base an unverified form gjeu-, to chew from source Persian ǰavidan, German kauen
intransitive verb
to chew something
☆

Informal

to chew tobacco
noun
the act of chewing
something chewed or for chewing; specif., a portion of tobacco for chewing
---
chew definition by American Heritage Dictionary
verb
chewed
,
chew·ing
,
chews
verb
, transitive
To bite and grind with the teeth; masticate.
To meditate on; ponder: chew a problem over.
verb
, intransitive
To make a crushing and grinding motion with the teeth.
To cogitate; meditate: chewed on the difficulties ahead.
Informal To use chewing tobacco.
noun
The act of chewing.
Something held in the mouth and chewed, especially a plug of tobacco. See Regional Note at chaw.
Phrasal Verb:
chew out
Slang
To reprimand; scold.
Origin: Middle English cheuen, from Old English cēowan.
Related Forms:
The American Heritage® Dictionary of the English Language, 4th edition Copyright © 2010 by Houghton Mifflin Harcourt Publishing Company. Published by Houghton Mifflin Harcourt Publishing Company. All rights reserved.
---
chew - Phrases/Idioms
chew over
to think over; consider
to discuss at length
chew the scenery
Informal
to overact, as in a play or film
chew the cud
Slang
To ponder over; meditate.
fat
chew the
/rag
Slang
To talk together in a friendly, leisurely way; chat at length.