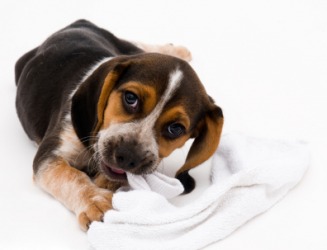 A puppy chewing on a sock.
verb
The definition of chew means to use teeth to bite, cut through and grind into smaller pieces, or is slang meaning to reprimand someone.

An example of chew is using your teeth to turn large pieces of lettuce into smaller, easier to swallow pieces.
To tell someone off is an example of how to chew someone out.
---
chew
to bite and grind or crush with the teeth; masticate

Informal

to damage or destroy as by chewing; mangle, hack, etc.: often with up
Origin of chew
Middle English
chewen
from Old English
ceowan
, to bite, chew from Indo-European base an unverified form
gjeu-
, to chew from source Persian
?avidan
, German
kauen
to chew something

Informal

to chew tobacco
the act of chewing
something chewed or for chewing; specif., a portion of tobacco for chewing
chew out
Slang
to rebuke severely; reprimand
chew over
to think over; consider
to discuss at length
chew the fat
Slang
to converse idly; chat
chew the scenery
Informal
to overact, as in a play or film
---
chew
verb
chewed, chew·ing, chews
verb
transitive
To bite and grind with the teeth; masticate.
To meditate on; ponder: chew a problem over.
verb
intransitive
To make a crushing and grinding motion with the teeth.
To cogitate; meditate: chewed on the difficulties ahead.
Informal To chew tobacco as a habit.
noun
The act of chewing.
Something held in the mouth and chewed, especially a plug of tobacco.
Phrasal Verbs:
chew out
Slang
To reprimand; scold.
Origin of chew
Middle English
cheuen
from
Old English
cēowan
Related Forms:
---
chew

Verb
(third-person singular simple present chews, present participle chewing, simple past and past participle chewed)
To crush with the teeth by repeated closing and opening of the jaws; done to food to soften it and break it down by the action of saliva before it is swallowed.

Make sure to chew thoroughly, and don't talk with your mouth full!
The steak was tough to chew as it had been cooked too long.

To grind, tear, or otherwise degrade or demolish something with teeth or as with teeth.

He keep his feed in steel drums to prevent the mice from chewing holes in the feed-sacks.
The harsh desert wind and sand had chewed the stump into ragged strips of wood.
Noun
(plural chews)
A small sweet, such as a taffy, that is eaten by chewing.

Phillip purchased a bag of licorice chews at the drugstore.

(informal, uncountable) Chewing tobacco.

The school had banned chew and smokes from the school grounds, even for adults.
Origin
Middle English chewen, from Old English ċēowan, from Proto-Germanic *kewwaną, from Proto-Indo-European *ǵyewh₁- (compare Latin gingīva ("gums"), Tocharian B śuwaṃ ("to eat"), Polish żuję ("I chew"), Persian جویدن (ǰavīdan), Pashto [script?] (žovạl, "to bite, gnaw")).
---