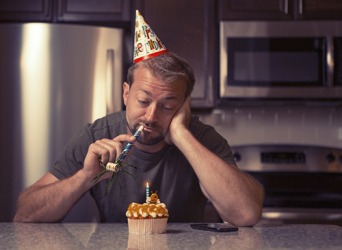 Jerry doesn't like to celebrate his birthday because it compels him to ruminate about his unfulfilled life.
verb
To ruminate is to think seriously or deeply about something.

An example of ruminate is when you carefully contemplate an idea and give it serious thought.
---
ruminate
transitive verb
intransitive verb
-·nat·ed

,

-·nat·ing
to chew (the cud), as a cow does
to turn (something) over in the mind; meditate (on)
Origin of ruminate
from Classical Latin
ruminatus,
past participle of
ruminare:
see ruminant
---
ruminate
verb
ru·mi·nat·ed, ru·mi·nat·ing, ru·mi·nates
verb
intransitive
To turn a matter over and over in the mind.
To chew cud.
verb
transitive
To reflect on over and over again.
Origin of ruminate
Latin
rūmināre
rūmināt-
from
rūmen
rūmin-
throat
Related Forms:
---
ruminate

Verb
(third-person singular simple present ruminates, present participle ruminating, simple past and past participle ruminated)
(intransitive) To chew cud. (Said of ruminants.) Involves regurgitating partially digested food from the rumen.

A camel will ruminate just as a cow will.

(intransitive) To meditate or reflect.

I didn't answer right away because I needed to ruminate first.

To meditate or ponder over; to muse on.
Adjective
(not comparable)
(botany) Having a hard albumen penetrated by irregular channels filled with softer matter, as the nutmeg and the seeds of the North American papaw.

a ruminate endosperm
Origin
1533, "to turn over in the mind," also "to chew cud" (1547), from Latin rÅ«minātus, past participle of rÅ«mināre ("to chew the cud, turn over in the mind"), from rÅ«men ("the throat, gullet") (generally ruminis), of uncertain origin.
---