consume

con·sume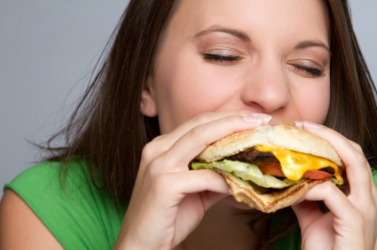 A woman consumes a hamburger.
verb
To consume is to use something up, destroy something or eat something.

An example of consume is when people use up all the world's oil.
An example of consume is when you eat a hamburger.
---
consume
transitive verb
-·sumed′

,

-·sum′ing
to destroy, as by fire; do away with

to use up
to spend wastefully; squander (time, energy, money, etc.)

to eat or drink up; devour
to absorb completely; engross or obsess: consumed with envy, a consuming interest
to buy for one's personal needs
Origin of consume
Middle English
consumen
from Old French
consumer
from Classical Latin
consumere,
to use up, eat, waste from
com-,
together +
sumere,
to take from
sub-,
under +
emere,
to buy, take: see redeem
Now Rare

to waste away; perish
to buy consumer goods or services for one's personal needs
---
consume
verb
con·sumed, con·sum·ing, con·sumes
verb
transitive
To take in as food; eat or drink up. See Synonyms at eat.

a. To expend; use up: engines that consume less fuel; a project that consumed most of my time and energy.

b. To purchase (goods or services) for direct use or ownership.

To waste; squander.
To destroy totally; ravage: flames that consumed the house; a body consumed by cancer.
To absorb; engross: consumed with jealousy. See Synonyms at engross.
verb
intransitive
To purchase economic goods and services: a society that consumes as fast as it produces.
Origin of consume
Middle English
consumen
from
Latin
cōnsūmere
com-
intensive pref.
; see
com-
.
sūmere
to take
; see
em-
in Indo-European roots.
---
consume

Verb
(third-person singular simple present consumes, present participle consuming, simple past and past participle consumed)
To use.

The power plant consumes 30 tons of coal per hour.

To eat.

Baby birds consume their own weight in food each day.

To completely occupy the thoughts or attention of.

Desire consumed him.

To destroy completely.

The building was consumed by fire.

1899, Kate Chopin, The Awakening:

He assured her the child was consuming at that moment in the next room.
See also:
consumé
---